Meet Cocoa. She rules the roost around here. She inspects every book that comes in the door and gives her approval to every package that goes out. She is as much a part of Dogcrazy Books as the humans.
Cocoa is a purebred Rough Collie. Her color is referred to as tri-factored sable. Her mother was a sable and her father a blue merle. She was born on a cattle ranch in Texas and has lots of champions in her pedigree. She was purchased by a couple in the Atlanta, Georgia area who wanted her as a companion for their three year old daughter. The man had grown up with a Collie when he was a child. They gave her a great start in life, but when the woman became pregnant, she was unable to cope with a toddler and a puppy at the same time. That's where we came in.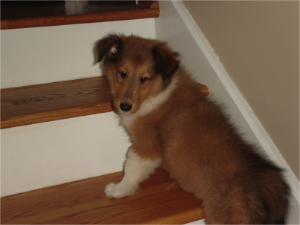 We had just moved to a new house and were looking for a dog that could be a companion to our son, Matthew. We responded to an ad on Craigslist and decided Cocoa would be the ideal choice. Boy, were we right. Matt had just returned home from Indianapolis where his marching band was competing in the Band of America Grand Championships. They made the semi-finals, but didn't make the final cut and we knew Matt would be in the dumps. We greeted him, on his return, with four-month-old Cocoa.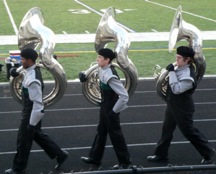 That's Matt, last in line, with his sousaphone at a football game. He was a member of the Collins Hill Screaming Eagle Band for four years. He also played tuba in the Symphonic Winds concert band.
Matt and Cocoa became inseparable. She loves us, but she's utterly devoted to Matt. He's the one who takes her for long walks and she sleeps by his bed. They are the best of pals.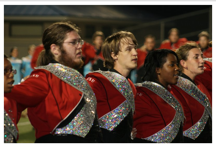 Unfortunately, for Cocoa, Matt grew up. His love for music earned him a scholarship to Jacksonville State University, in Alabama. (He was accepted to the University of Alabama, but decided on JSU because of the excellence of its music and business programs, but mostly because he loved their band.
Go Gamecocks!)
Cocoa was heartbroken, particularly when she learned that dogs weren't allowed in the dorms. She did a double-take when Matt came home looking more mature and sporting long hair and a beard!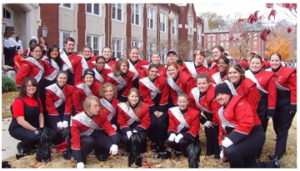 Time out for a moment. Matt's now playing clarinet with Jacksonville State's
Marching Southerners.
Next year, he hopes he will be able to play one of the antique Conn 20J tubas for which the band is famous. For you who have never heard them, the Southerners have been rated as one of the top eight college marching bands in the nation. They perform at football games, of course, and give many exhibitions around the South. Don't miss it if you ever have the chance to see them perform and check out the video posted on their website.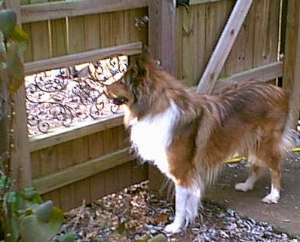 Cocoa is now almost four years old. While she's waiting for Matt's return, she is resident busy-body for the whole neighborhood. She has taken a solemn oath to protect the house and scare away the men on the garbage truck that she's convinced are stealing something valuable. All she asks, in return, are love, hugs and FOOD!
While most parents are eager for their kids to move out and be on their own, that's not the case here. We're dreading the day, after Matt graduates, when he announces that he and Cocoa will be getting their own place.