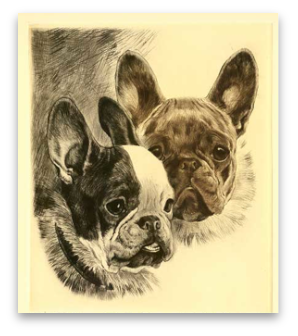 About My French Bulldog Collection


NOTE: Many of the items mentioned in this article have already been sold. I've included links to those items that remain in our ebay store. You can click on any of the underlined titles to take you to that ebay page. There's good news, though, for Frenchie collectors. I just purchased a collection of over 150 Bulldog books and there are some French Bulldog books among them. I'll be listing them on our
French Bulldog ebay page
as time permits.


I don't really have a French Bulldog collection, but I couldn't come up with an appropriate title for this little missive. Perhaps I should have called it "Adventures in Collecting." It's impossible for me to provide a provenance for many of the items in my collection, but I thought you might enjoy hearing how I stumbed across some of my other finds. I give you fair warning: I know this tale is so incredible that it sounds like a lie. Heck, if it hadn't actually happened to me, I'd think it was concocted, too.

I've always admired French Bulldogs. When I began in dogs they were rare and I'd always try to make it to the Frenchie ring when any were entered in shows. I loved those wonderful heads and expressive faces...one minute serious, the next comical. Over the years, I was able to see a few really great Frenchies.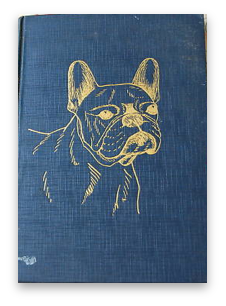 There aren't many Frenchie books out there, but I was always on the hunt for some to add to the Dogcrazy Collection. That first breed book, produced by the French Bulldog Club of America,
The French Bulldog, History of the Origin of the Breed, It's Cultivation and Development,
(at the right) edited by O.F. Vedder and published in 1926, was always at the top of my "Most Wanted List." Unfortunately, I never did find a copy. Ditto for W.J. Stubbs'
The History of the French Bulldog,
privately printed in a very short press run in 1903. This was reprinted in 1979 by the French Bulldog Club of England.

Amazingly, I acquired almost all of my French Bulldog books and artwork in a single six-month period in 1982 and, in of all places, Alabama. Even today, when the breed is experiencing a boom, the French Bulldog Club of America lists only two Alabama breeders and, as far as I know, they weren't active back in the early 1980s. So, why, I asked myself, should I discover so many Frenchie treasures in Alabama? And it wasn't just in one place so that I could suspect it was an old-time fancier selling off his or her treasures. No, I found Frenchie things all around the state, from one end to the other, in cities and rural spots. It still mystifies me. I began to suspect there was some super-secret underground Frenchie cabal afoot in the state.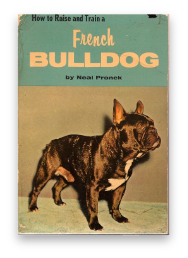 My short-lived Frenchie buying spree started innocuously enough. In a little store in Anniston specializing in paperbacks, I found a worn copy of
How to Raise and Train a French Bulldog.
Not much to excite a collector back then, but I didn't have a copy so I grabbed it. (Quick shout out to Jacksonville State University, right next door to Anniston, where my son, Matt, better known as Cocoa's best buddy, happens to be a student: Go Marching Southerners! Sorry, it's a Mom thing.)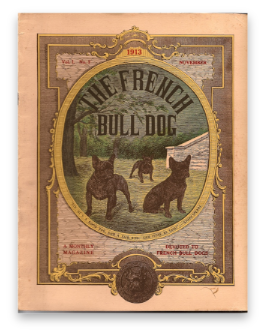 The next weekend, we went antique hunting in Huntsville, Alabama. I managed to pick up a nice bronze and, while I was checking out, I asked if they had any other doggy items. The woman pulled out a stack of old dog magazines that she had purchased and not yet priced. There were AKC Gazettes from the early 1900s and buried among them was a November 1913 copy of
The French Bull Dog
in beautiful condition. I knew instantly that it was rare, but even I did not suspect how really rare this publication was.

The French Bulldog Club of America says this about the magazines:

"In 1913 and 1914, the club published nine issues of
The French Bull Dog,
a magazine that contained a wealth of Frenchie-related articles and photographs. Publication ceased because of financial losses but these magazines provide the definitive picture of the gilded age of Frenchies. As one would expect, copies of these magazines are highly valued by collectors today."

I didn't want to haggle over single issues so I just asked the owner how much she wanted for the entire lot. She was grateful for a quick sale and I was thrilled with my find.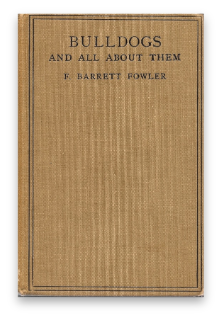 A couple of weeks later, I joined my husband, Harvey, when he went to Mobile for an engineering convention. Of course, as usual, we hit any bookstores in town. That's when I snagged the 1925 copy of St. John Cooper and Fowler's
Bulldogs and All About Them,
a new edition of St. John Copper's original 1914 book. This lovely edition features a nice chapter on Frenchies with some great photos. It's a must for any Frenchie collection.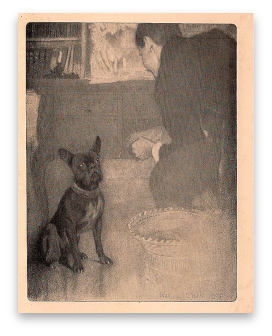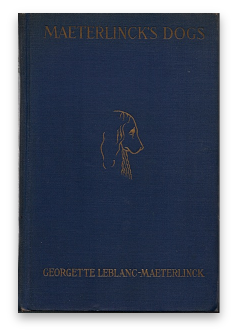 In the very next store we visited, I managed to nab an old copy of Maurice Materlinck's
Our Friend the Dog,
which included nice Frenchie illustrations. Two days later, I would stumble across a copy of
Maeterlinck's Dogs,
written by Maurice's long-time mistress, Georgette Leblanc-Maeterlinck, which included the story of "Raymond the Clown." Raymond was a French Bulldog. Suddenly, it seemed like it was raining Frenchies.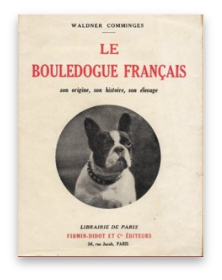 Our next stop was at the home of a confirmed bibliophile who, in these pre-internet days, did all of his dealings by mail. Still, he had a little ad in the Mobile phone book and we were given an appointment. His entire house was filled with pricey volumes, most on the Civil War and Alabama history. The kind owner directed me to the hunting section where I found a few dog books. "I do have a few books on dogs," he said, as we were leaving, "but they're not in English. Would you like me to dig them out?" We waited patiently while he searched through a stack of boxes, pulling a few volumes out as he went. Among them was a 1933 French book by Waldner Comminges, entitled
Le Bouledogue Francais, Son Origine, Son Historie, Son Elevage,
which trainslates to
The French Bulldog, His Origin, His History and His Breeding.
I was ecstatic.

One spring afternoon, we accompanied friends to Lake Weiss, a beautiful 33,000 acre lake in Centre, Alabama. Centre bills itself as the "Crappie Capital of the World." I know fishermen in some places consider crappie trash fish, but here in the South we appreciate the small mild-tasting sunfish. I don't know what I like better: watching the sun dance off the dazzling blue water while I dangle an old cane fishing poll into the lake or cooking and eating crappie. It's a toss-up.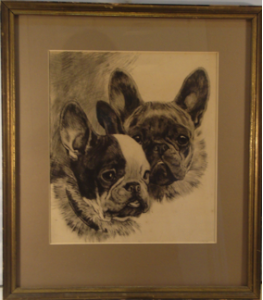 Right outside town, we spotted an old-fashioned defunct Esso station (the folks that advertised: Put a Tiger in Your Tank) that had been turned into an antique/junk store. It was an untapped source which likely hadn't seen a dog collector since opening. I made a big haul of prints, old advertising pieces, calendars and statuary featuring the sporting and hound breeds. It was also here that I picked up a pair of French Bulldog copper etchings by respected German artist, Kurt Meyer-Eberhardt (1895-1977). He trained at the Weimar Academy of Fine Arts and, in 1918, he was offered a chance to become a professor at the school. Instead, he packed his bags for Munich and decided to specialize in engravings of animals. I figure he must have been a dog lover because his many doggy etchings not only show his skill as an artist, but have a special charm that will warm the hearts of any dog lovers. His final exhibition was held in 1926.

I absolutely love the
dual headstudy of the Frenchies titled simply
Two Dogs.
What a plain-Jane name for this wonderful portrait of two impressive Frenchies in their old-fashioned brush collars.
The other etching was of a charming dog and was titled
Frenchy.
Digression: I also own a couple of other Meyer-Eberhardt prints, including one of Fox Terriers. He was particularly fond of portraying that breed and his etchings of Borzoi are spectacular. Ditto for his German Shepherd and some of his Pekingese work. His etching of a little Brussels Griffon is among my favorite ever depictions of the breed.


I've since learned that a German company has continued to reprint Meyer-Eberhardt's work, including the Frenchie headstudy. But, these newer prints, I'm told, lack the original pencil signatures. Also, my old etching of
Two Dogs
is in black and white, while the newer version is hand colored. (I've included the new colorized version at the top of this column. I'll be adding a better photo of my original when time permits.)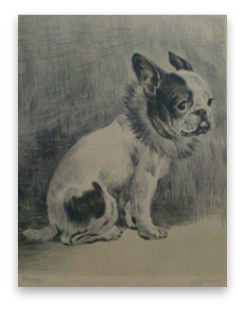 "Where did you get these etchings?" I asked the owner. She was very nice. I've found that when you appear out of the blue, late on a Saturday afternoon, and hand over something like $300 in a junk store, people get really chummy. I learned that a resident nearby had offered a home to an aging aunt who could no longer take care of herself. The couple had driven up to Detroit to fetch the elderly woman and bring her back to their place in Alabama. They had packed up most of her belongings but there was simply no room for them in their modest home. Now, they were selling the things she had loved and cared about over the years.

"That's her," the woman said, pointing to a cork board thick with photos and flyers. "I was trying out a new camera when they came in and I snapped her photo." Peering at me from a corner of the board was a woman in her 70s or 80s, wearing an old-fashioned, navy blue, crepe looking mid-calf length dress, with a prim little starched white collar. Sitting by her side was a very nice dark brindle French Bulldog, his muzzle completely white with age. Whenever I look at those Meyer-Eberhardt etchings, I picture that woman and her dog from Detroit.

My friend's car was packed to the gills when we headed home. There was all my dog stuff mixed with fishing tackle, poles hanging out the window and coolers full of fish. I clutched the Frenchie prints to my chest all the way home.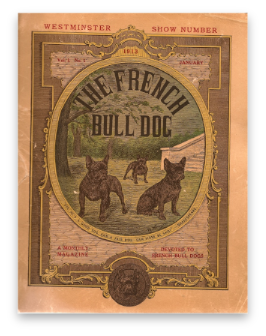 On another day, we had visited the few antique shops and junk stores in Gadsden, Alabama, and were finishing up at an antique mall. The place was huge and the air-conditioning was inadequate. We had found nothing and I was, quite frankly, pooped. I finally spied a sturdy looking chair in one booth and plopped myself down. Harve finished looking around while I rested. The booth held a melange of items, but there was nothing that particularly interested me. To my right was a large bin filled with modern decorator prints and some old ads taken from magazines from the 1930s and '40s. Since I had nothing better to do, I flipped through them. Nothing even remotely doggy. I almost stopped, figuring I was wasting my time and then, JACKPOT! The next to the last item was the very first issue of
The French Bull Dog
magazine. What a find! My day brightened considerably.

I showed my find to Harve and he burst into laughter. "You're not going to believe this," he chuckled. From his shopping basket tumbled three ceramic French Bulldogs, manufactured in Japan in the 1930s to 1950s. Other than one repaired Beagle figurine, these were the sole doggy items he'd found in the store. (Click on the photos to go to the ebay page for each figurine.)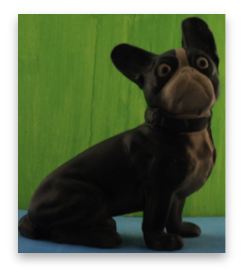 As we were going out the door, I glanced down and saw a
cast iron French Bulldog doorstop.
It appeared to be a reproduction of a Hubley piece from the early 1900s. Any other day I might have passed it up but, hey, we were on a Frenchie high. For years, we referred to this as our FRENCH BULLDOG BONANZA DAY.
There's one other little French Bulldog item in my collection that I'm especially sentimental about. I treasure this because it was a special gift. Harve and I decided to spend the fall of 1982 at beautiful Lake Guntersville. It was a gorgeous autumn day and I donned my old World War II Army peacoat (a gift from Harve's uncle), grabbed a basket and headed for the woods. I was in quest of mushrooms. While I would gather a variety of species, my favorites were the giant puffballs, so delicate in both appearance and taste. Under a mighty old oak tree, I ran into a hunk of a guy, Mac, who was on the same quest. He was a beginner, hunting with a mushroom book literally in one hand. I gave him a few pointers and he invited me to his house to see the mushrooms he'd collected over the past few days.

A huge pork butt was roasting when Harve and I arrived. Mac introduced his wife and mother and his large Golden Retriever, named Hank. As his wife made dinner, I examined the mushrooms he'd placed in a big crockery bowl. I plucked several large impressive white specimens and asked if anyone had sampled these yet. I suppose the seriousness of my tone got to them. "No, why?" Mac asked. I explained that these were the
amanita ocreata,
better known as the Death Angel. When I told them about the stealthy manner in which these mushrooms poisoned, they just sat in stunned silence. I showed Mac how to make spoor prints to help determine the identity of a mushroom. We had a delicious dinner and I made my sliced and breaded puffballs for them. Over the meal, we discussed dogs, of course, and my collection.
Before we left, Mac's Mom excused herself for a moment and returned with this little trinket. I'm not sure if it was intended as a figurine or a paperweight. "I want you to have this," his Mom said. "It's very special to me." In 1920, Mac's parents were married and they celebrated with a honeymoon at Niagara Falls. They had a new Willey's Touring Sedan and they set out for New York, quite a feat in those days before we had an interstate highway system. I suppose Mac's Mom looked very young because they had to produce their marriage license before some hotels would rent them a room. They loved their stay at Niagara Falls and would, in future years, return several times. While on their honeymoon,
Mac's father purchased this little French Bulldog trinket for his bride.
She said these were popular due to a local legend about a Bulldog who survived a trip over the Falls. I love the old brush collar and there is coat on the dog's back which has an incised drawing of the Falls and bears the marks "Prospect Point" and "Niagara." I told her I couldn't possibly take it, but she insisted. "You probably saved our lives," she said. So that's how this little guy became part of the Dogcrazy Collection.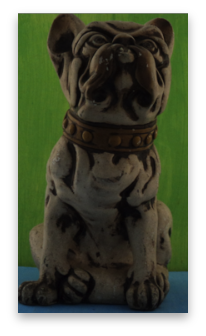 My final score during this half-year Frenchie windfall came just a mile from my house. One of our favorite places to go on Saturdays was Collinsville Trade Day. This is a huge outdoor flea market with a distinctly rural flavor. It's a grand mix of antiques, collectibles, junk, food, plants, crafts, cleaning out the garage stuff, as well as farm equipment, livestock, guns, etc. Sooner or later, you'll probably find everything at Trade Day. This venue is famous in our neck of the woods (and surrounding states, too) where 30,000 people have been known to stop by on a single good weather day. And, it was there I found this ceramic French Bulldog guard. He's a happy reminder of my former Alabama home.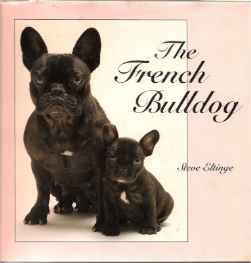 I have only added a couple of other items to the collection in the intervening years. I couldn't resist
Steve Eltinge's
The French Bulldog,
from 1988
,
with its great photos. And, I picked up a copy of Anna Katherine Nicholas' little book on the breed.


It was during this same six-month heyday of collecting that I just missed purchasing two other Frenchie treasures. I walked into a high-end antique store in Birmingham and the first thing that caught my eye was a very large painting propped on the wall by the front counter. It must have been three feet across and featured headstudies of three exquisite French Bulldogs. They stared straight out at you and you simply could not look away. The piece was breathtakingly beautiful and I wanted it. Oh, how I wanted it. I bent down to look for the artist's signature, but it was indeciferable. I could make out the date, though. It said "Paris, 1918." I held my breath as I fingered the tag specifying the price. $2,500. It was way over my budget, but I was mentally calculating how much I had available on the old Mastercard.

"I'm sorry, that's already sold," the owner said from behind me.

"Are you sure," I asked lamely.

"It's going to one of my best customers, an interior decorator who furnishes mansions in Atlanta."

I can tell you that Harve breathed a sigh of relief and it did keep me from breaking the bank, but I still feel the loss today. I walked out of the shop with a
lovely Pug bronze
and, any other time, I would have been elated, but I could only feel regret for the one that got away. So, somewhere in a mansion in Atlanta, there hangs a magnificent Paris painting of a trio of French Bulldogs. I certainly hope they love it.

There was another strange one that got away, too. We stopped at a gas station outside Talledega. I stretched my legs while Harve topped off the tank. By the side of the road was one of those displays of paintings on black velvet. You know the type: a bejeweled Elvis, garish tigers, a gaudy Jesus blessing the masses, and, since this was Alabama, the University of Alabama elephant and the Auburn tiger, etc., etc. I'm sure you all know what I'm talking about.

I spotted a Beagle on velvet and went for a closer look. While it looked nice from a distance, it was disappointing close-up.

Digression: I know what you're thinking: are you crazy, Cathy? These are paintings on black velvet!!! No insult intended, but these are sort of the low of the low when it comes to artwork. What's next? Paint by numbers? Why waste your time?

And, that's exactly what I would have thought except for my Airedale painting. In the early 1970s, at a swap meet at the old Tropical Race Track, in south Miami, I spotted a gorgeous Airedale headstudy propped against the windshield of a car. I kept it, laser-like, in my sight as I threaded my way down the aisle. The artist was probably an Airedale lover because he/she had really done the breed proud. It was only when I actually got there, that I realized the darn thing was done on black velvet. I snatched it up anyway and it's hung in various places in my house for years. I should also mention that it's fooled many dog people, too. No one's been able to believe that it's really painted on black velvet.

Okay, back to Frenchies. As I walked over, a man was handing over his money and tucking a Frenchie head study under his arm. The cream color of the dog contrasted nicely with the black velvet and the ends of the gilded age style brush collar were really gilded with gold leaf. The quality was as good as my Airedale piece.

"Do you have another one of those?" I asked the person who ran the stand.

"Nope, only had one."

I followed the man with the painting. "Would you be willing to sell that painting?" I asked the guy who had just purchased it.

"No, can't," he mumbled.

"I'll pay you double what you just paid."

"Not interested," he said.

By now I was close enough to really look at the piece. It was lovely. "Triple," I offered.

"It's my Grandma's birthday and she loves Bulldogs so this is going to be her present."

"But it's not even a Bulldog," I protested, "It's a French Bulldog."

"Look, lady," he said in exasperation, "everyone is at my Mom's house for a big birthday party for my Grandma. Relatives from five states are here and it's due to start any minute. I can't admit that I didn't get Grandma anything, that I plum forgot about her birthday altogether. My Dad would skin me alive. You could offer me 10 times what I paid and I wouldn't take it. I don't mean to be rude, but I've got five minutes to get back."

And, with that, the loveliest little black velvet painting of a Frenchie you'd ever want to see was hurriedly tossed into the back of an old Ford pick-up truck and rumbled away down an Alabama road.