Newsletter 1
Blamin' it on the Relatives
Dec. 15, 2009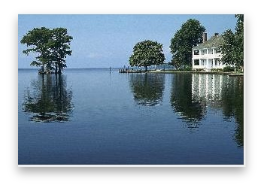 Please accept my apologies for taking so long to get the first Dogcrazy Newsletter out to you. I know these ebay newsletters are supposed to be "sales tools" where you give people links to all the new things you've added to your
store
. I don't know about you, but that sounds pretty boring to me. The last thing I need is more junk mail in my in-box.
Right up front,
I have a confession to make: I tend to get long-winded, especially when I'm talking about things I love...like dogs and books. I blame it on my Southern heritage. While I grew up in the Florida suburbs, I spent summers on relatives's farms in North Carolina. One of my favorite times of the day was late afternoon, after the sun had reached its peak, but it was too hot to do any work. The writer Kathryn Tucker Windham, wrote a book titled
Alabama: One Big Front Porch
and that really captures, for me, the summers of my childhood in the South.

Every afternoon, the women would gather on the front porch to shell beans, darn socks or do some other handiwork. The stories about family, history, gossip and politics, etc. would flow. I never was too good at shelling beans and my sewing skills leave much to be desired so I'd sneak around to the back porch. There the men gathered and talked about hunting and dogs. At first my presence was just tolerated. Blurring the male-female roles with these good ole' boys was "just not fittin.'" I kept my mouth shut and absorbed all the stories and lore that swirled around me. Finally, I got up the courage to ask questions and these men, now used to my presence, were cheerful and generous with their answers.

On Sundays, neighbors would come a visitin' and add their rich stories to my reservoir of memories. I always honed in on the doggy stories. One old woman (my family thought she put on "airs") would talk about days on her granddaddy's plantation. The old gent had a kennel of prize-winning Pointers and she could still recall many of the breed's greats. Her grandmother had a kennel of Collies, including champions, and a whole staff to care for them. One of her prized studs came from Albert Payson Terhune's Sunnybank Kennels. I had heard lots about him before I ever read one of his stories. I learned odd bits of old folklore, such as adding small amounts of arsenic to the Collies daily food to improve coats. (It's a wonder our dogs survived some of these ministrations!) Another woman was a third-generation Pug breeder and she never went anywhere without one of her dogs. After receiving hugs and treats, the dog would curl in her lap and snore while we gabbed.

I had a school-girl crush on a man who made regular visits to the back porch on Sundays. He was a professional bird dog trainer who ran his dogs in field trials. One of the Coonhound men took me under his wing. I think it was because he had no sons and his wife and daughters constantly grumbled about his dogs. He raised Blueticks and Plott Hounds. I knew I'd arrived when he invited me along on several night hunts. Boy, did I have to plead, promise and cajole before my Mom would let me go along and then only because my father interceded and signed on as my chaperone. Moonshine, bawdy stories and the chance to trip over logs in the dark...it sounded like fun to me.

My uncle was a hound man. Beagles, Bloodhounds and an occasional Basset Hound greeted me every summer when I returned. The Bloodhounds could always be counted on when some visitor or child got lost in the woods. The real guardian of the place, though, was a huge black Newfoundland. This was not a breed normally encountered in rural North Carolina in the 1950s and '60s. A newcomer had moved to the area and my uncle helped him build a house. In gratitude, Uncle Russell had been given the Newf. What a great time I had roaming the fields and woods with that dog. Someday I'll have to tell you about his extraordinary talent as a snake killer.

I certainly didn't fit the mold of what young Southern ladies were supposed to be like. To me, even the term "lady" sometimes rankled. Too often, it seemed to be a code word for "act properly and skip the fun." In their more charitable times, my relatives called me a "rebel" and, at other times, they would shake their heads sadly and say, "she's a strange one." This was only compounded when I committed that great Southern sin...that horror of horrors: I married someone from
New York City!


Harvey, that boy from the Bronx, has been my partner in crime for the past 38 years. He bought me my first AKC registered dog, a Weimaraner, supported my small kennel, joined dog clubs and helped me run training classes. We logged lots of miles on the dog show circuit, traveling with Weimaraners, Beagles and Alaskan Malamutes. We even took along Pugs, a mini Dachshund, a Shih Tzu, a Bulldog and an Akita on occasion. Harve is a born packrat and the Dogcrazy Collection would never have grown without his aid and comfort. Together, like a brace of those old hound dogs, we've scented out dog books wherever we have lived and traveled.

Enough! This letter is getting really long and I haven't said a word about what I've added to the store. This month has been really hectic. First there was reading through all those FAQs to learn about setting up an ebay store. Then, I had to start listing all the books.

Somewhere along the way, I decided it would be best to set up a website to go along with the store. Everybody has a website now, don't they? I could include articles on starting a collection, tell about how we discovered some of our books, talk about what makes books valuable and why you should collect them. My enthusiasm runneth over. It rushed headlong into a brick wall. I quickly learned that just because I spent days on ebay, or googling, or haunted the internet each night, didn't mean I knew enough to do web design. Thanks to the internet, I've done lots of self-education. You can now visit our website at
www.dogcrazybooks.com
and see for yourself. There's lots of good stuff on dog books as well as a page devoted to
Cocoa
, our resident Collie.

There are a couple of items in the store I'd like to point out to you. I doubt there are many Foxhound people out there (though Beagle and Harrier folk should check out the Surtees book), so I'm not really doing this for promotion. I just think everyone who loves dog books should see these two items:
Mr. Jorrocks's Thoughts on Hunting
and
Town and Country Papers
.
These fall under the category: the art of the book. They are two of the most beautifully decorative dog books I have ever seen. The scans really don't do justice to them. The covers are simply exquisite. Even the spines are mini works of art. For years, these books have been sitting on the small table in my library where they never fail to impress the visitor.

Please check back with the
store
often. Other than the two books mentioned above, I haven't really started listing much of the collection. I'm beginning with the four bookcases in my office which are filled with all my duplicate dog titles and the fiction and story books. Then, I'll make my way downstairs and start on the library. This whole room is filled with nothing but dog books and art.

Why, you ask, would I have so many duplicates? Some are books that I bought for the collection, even thought they weren't in the best condition. When I found a copy in better condition, I replaced it. Sometimes I bought an entire collection just to get one or two titles. And, sometimes, I just couldn't resist picking up a rare book even though I already had a copy in the collection.

I thought I was just about through with listing all the story books, until yesterday. Only two more shelves to go and I'd have them all done. Wrong! A neighbor's big cat, a Russian Blue, perched itself on our front walkway which, naturally, drove Cocoa nuts. She guards us from all interlopers, be they of the two- or four-legged persuasion. In her zeal to protect me from this imminent feline threat, she bounded into the library and bumped into some paintings and prints I'd leaned against a bookshelf. While straightening them, I discovered another shelf of story books. So, if this is what you collect, there's more in come.

Okay, for those who haven't abandoned me out of sheer boredom yet, I'll close. Following the ebay orders to shamelessly promote your store at every turn, I'm including links below to two IMPORTANT books I recently added to the store. Stonehenge's
The Dogs of Great Britain and Other Countries
and James Watson's
The Dog Book
are must-haves for any serious dog book collection.

See, I really am long-winded. I'll try to get out the newsletters every couple of weeks. I thank you for the interest in the collection and the visits and purchases you have made. If you have any friends that collect dog books, please tell them about our store or pass this newsletter on to them. Also, please be patient with us as we learn all the myriad of things you need to know to sell books on the internet and ship them out to new homes. Big thanks also for letting me trudge down memory lane.


Cathy, Harvey & Cocoa




PS. The photo at the top of the page is from the Chowan County Tourist Assn., in Edenton, NC and shows an historic home of Albemarle Sound. My family settled here in the late 1600s.