Newsletter 14
Steeling Dogs
Jan. 20, 2011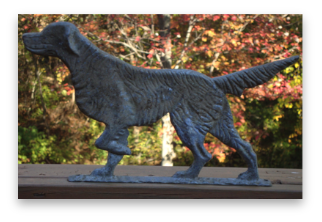 Hi Everyone,

Over the years, I've done many things to add to the Dogcrazy Collection. I don't want to even think about the thousands of dollars I've spent. I've traded and bartered, begged and cajoled and a few times, I'm ashamed to admit, I've even fibbed. But I've pretty much drawn the line at out-and-out thievery. After all, the real excitement in compiling a large collection is in the quest...the challenge of seeking out and adding all those wonderful pieces...and stealing them would just detract from the whole experience.


Now, I have a confession to make and I don't do this with an easy heart. In my nightmares, I see some prosecuting attorney with a print-out of this page as he approaches me in a witness chair. "You say you're an honest person, Mrs. Flamholtz?" But, I'm getting old now and the odds of that happening seem remote. So, I'm going to confess, for all the world, that there were a few occasions when I've stolen items for the collection. And, truth be told, I don't regret it a bit.

I've entitled this page "Steeling Dogs" because it's steel fence toppers that I've pilfered. In all cases, it was from the ruins of defunct kennels and I've chosen to look at it as rescuing a part of history, rather than looting.

I need to apologize in advance. These stories are going to get a little convoluted. However, it's necessary in order to tell the tales of these old pitted and weathered steel dogs.

The first item I purloined was a Cocker Spaniel fence topper. It was in the 1970s and Harve and I were returning from a trip to New York. We were not having a good day and decided to enliven the trip with a little diversion. We'd placed a promising young Alaskan Malamute, who had earned a five point major at a Specialty, with a handler. Through the grapevine we heard that there was going to be a major at a Virginia show not far from the handler's turf. So, we swung by the show, hoping to see our dog, only to discover that the handler didn't get the entries in on time and had skipped the show.

Our next stop was at the Virginia home of an aged Aunt. I was looking forward to the visit. During my growing up years, my Aunt Evelyn had lived on a North Carolina farm and I had spent many summers visiting. We got along well. We shared an interest in all animals and she tried to encourage me to become a veterinarian. Aunt Evelyn had borrowed the family Bible which, according to tradition, had been handed down to my late Father, the oldest son in the clan. Aunt Evelyn had been born at home and had no birth certificate so the Bible had been used to prove her date of birth to the folks at Social Security. I thought I'd have a nice visit and reclaim the Bible for my brother.

The heartwarming visit I'd anticipated turned into a disaster. From the start, my Aunt was, well, grumpy. She spent the majority of the visit berating my late Mom, while I bit my lip in agony. We Southern girls, you know, are raised to be unfailingly polite. I was finally relieved when she brought out the Bible. I tucked in under my arm and got out of there as fast as I could. Harve and I stopped for lunch a short time later and I opened the Bible, intending to show him the births, deaths and marriages. It was then I discovered that my Aunt had neatly cut all the center pages out. They were gone and with it an important part of my heritage. Like I said, it was a bad day.

Dejectedly, we got back in the van and headed for home. It was then that I did one of my famous "Stop the car" yells and Harve pulled to the side of the road. I had seen a road sign for the turn off to a small Virginia town.

Okay, I'm going to have to backtrack for a minute. Several weeks before the New York trip, a friend had given me her collection of old dog magazines which were from the 1940s through the 1970s. One of the 1940s magazines contained an article which just captured my imagination. It was one of those "visits to a kennel" type articles in which the author had toured a prominent Cocker Spaniel kennel, home to a number of champions. For me, the setting seemed idyllic. This was just the kind of place that I longed to one day own.

At the center of the property stood an old post-Civil War farmhouse, elegantly efficient. But it was the kennel house and grounds that really captivated me. The door on the neat white clapboard covered kennel house opened to a living room/office where an overstuffed couch and easy chairs sat poised before a fireplace. The owners were pictured with some of their champion Cockers. Trophy cases lined one wall and bookcases the other. I remember that they had curtains that had been fashioned, rainbow-like, out of the ribbons their dogs had won in shows. There were puppy rooms, whelping rooms, a large grooming room, and the general rooms where adults lived, all connected to large fenced in graveled runs. There was even a room where dogs were trained for the show ring. Mats formed squares and triangles and one wall was covered with mirrors. In the center of the room stood one of those Westminster-like podiums where puppies, hopefully destined to be Best in Show winners, could hop up and pose.

Though the pictures were black and white, I could see in my mind the lush green grass of the pastures surrounding the white house and kennel. Behind both buildings the ground sloped gently to a large lake. This incredible view was featured in several of the photos….adults galloping across the wide lawn, their ears flying in the breeze…puppies tumbling and cavorting in the grass…two aged Cockers sitting at the end of a long wooden dock gazing at the sunset.

Radiating out from the cleared area that contained the house and kennel were sparsely wooded fields. They looked more like parks to me, shorn of all underbrush. Here the owner was pictured with several dogs and his shotgun, a ready-made training field at hand. There was no feuding here about whether Cockers were solely show dogs or field dogs. Dogs here were allowed to develop all their talents.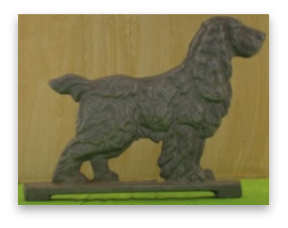 I can no longer recall the name of that kennel or the town where it was located, but on that day in the 1970s, it was fresh in my mind. I had suddenly seen the name of the town on a road sign with an arrow and that's when I let out my "Stop the car" cry. I urged Harvey to follow the sign. I doubt he would have done it if the day hadn't been so upsetting. But, he dutifully took me on what might have been a flight of fancy and a waste of time. We passed completely through the small town and were ready to give up when I spotted the lake. The property was abandoned and had been for many years. Both the farmhouse and the kennel building had burned to the ground, their fireplaces standing as silent sentinels to what had once been a thriving place. Trees had reclaimed most of the pasture. I got out of the car and made my way to the ruins of the former kennel house. Everything there appeared to have been either salvaged or looted. Such a shame, I thought.

I wandered around and discovered a small fenced area which had enclosed the kennel's cemetery. Some of the gravestones had toppled and others were shrouded in catbriars. As I left and closed the gate, I stood there feeling as though part of my dream had died. Before leaving, Harve pried loose the steel Cocker Spaniel that had stood on that gate for all those years. Those of you who
see this little steel Cocker in our ebay store
may just see a metal dog. But, me…I see a lawn filled with merry Cockers.



My first job in dogs was at a kennel which specialized in Yorkshire Terriers. There were also Pomeranians, Shih Tzu and a few Skye Terriers, from the old Talisker Kennels. Joan Eleyet was the owner of that Florida kennel. She had purchased her first Yorkie from Winifred Drake, of Drax Kennels, and the two remained close friends. Both loved coated breeds. Winnie had begun with Cockers, then switched to Yorkies and Maltese. While they agreed on so much about dogs, they were a study in contrasts. Winnie loved the show ring and owned a number of champions. Joan ventured into the show ring only one time and was petrified by the experience. Though she would breed many quality dogs, a number of whom finished for their owners, she never showed her dogs again. Instead, Joan ran a commercial kennel. As an impressionable young employee, I always had a conflicted mind. I was new to dogs and very idealistic. I was never a fan of commercial kennels, even good ones, yet I had to admit that working at one put me on a veritable fast-track to learning so much about every practical aspect of dog care and breeding.

In the early 1960s, Joan and Winnie became interested in some of the rare breeds that were new to the U.S. Winnie's choice was the Lhasa Apso while Joan decided on the Shih Tzu. Neither breed was AKC recognized at the time. Winnie bought stock from American breeders and sent to England for a couple of puppies. Winnie would achieve fame once Lhasas were eligible to compete in show rings. She finished many champions, had a top producer or two and at least one big winner. I remember meeting a retired dog Winnie bred named Ch. Drax Ni Ma Me. Winnie had bred and finished him and then sold him to another breeder. These were the days when Lhasas were a rarity in show rings. The very first weekend Ni Ma Me was specialed, he won two Group I's. The following weekend he won a Best in Show. That year, he racked up 99 Bests of Breed, 51 Group placements, 14 Group One's and that Best in Show. In later years, the American Lhasa Apso Club would designate Drax as a Register of Merit Kennel.

I can't remember much about the bloodlines of the Shih Tzu that Joan owned. I know that she had several dogs sired by a wonderful silver gold and white dog named Encore Chopsticks, who would go on to sire several champions. One of the dogs Joan bred, had he been shown, would have made a name for the kennel. A double grandson of Chopsticks, he combined substance with elegance. But, what was most unique about Frosty was his color. He was solid white with the darkest eyes and nose imaginable. Joan turned down many offers for him.

There was a period when the demand for Shih Tzu far exceeded the supply. Joan was a great one for talking with people on the phone, but she wasn't much for letter writing. So, gradually, I had taken over the kennel correspondence. Many of the letters we received were from veteran show people who were looking to change breeds. Some were getting older and wanted to change to a toy breed. Others were moving to smaller quarters and had to downsize their dogs. Many letters offered trades, sometimes champions, in even swaps for breeding stock.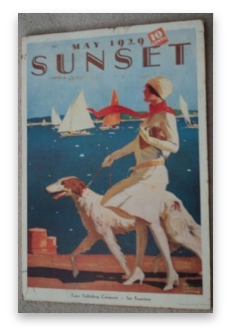 One of the deals Joan did take was for a pair of champion Borzoi in exchange for three Shih Tzu. I had swapped many letters with the owner of the Borzoi and we had become pen pal friends. This woman grew up in Louisiana and it was there, as a child, where she first encountered the breed. Back in the 1920s or '30s, when she was growing up, Borzoi were rare, particularly in the South. In the Louisiana town where she grew up, there was a woman who owned a number of the regal dogs and kept a small kennel. My pen pal partner would walk slowly down the road fronting the kennel, just hoping to catch a glimpse of the dogs, generally known then as Russian Wolfhounds. The kennel owner was viewed locally as eccentric and her Russian dogs were viewed with a certain hostility. This was enhanced because their owner would often call to them in Russian. The young girl never got up the nerve to talk to the owner of the dogs. But, oh, how she longed to learn more. When the dogs were out exercising, she would climb a nearby tree and huddle silently while she watched them run like the wind.


Again, I'm sorry that the name of the kennel owner and the town eludes me. I know that it was near Shreveport and that my long ago friend was later thrilled to discover that those first dogs she had seen came from Iskra Kennels, located in Shreveport. Owned by Mrs. Carama Chantler, Iskra had a string of notable winners in the late 1920s to the 1940s. Mrs. Chantler bought both American stock and imported dogs. She had a number of champions, including several Group and Best in Show winners. One of her bitches finished her championship by winning the Group three consecutive times.

After my pen pal was married, she bought her first Borzoi and thought she'd never switch breeds. But, life can play funny tricks on you. An injury made it impossible for her to handle the big breed and she had decided to change to Shih Tzu. I can't remember much about the dogs we welcomed to the kennel. As I recall, the big male was named Bistri, or something like that. He was affectionately known as "The Beast."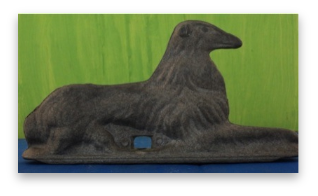 Many years later, Harve and I were driving through Louisiana, where my Mom had been born. Again, the town's name popped up on a road sign and we took a detour. We stopped at a small diner and I just happened to ask if anyone remembered the old lady who had raised Borzoi so many years ago. The waitress introduced her aging Mother and she remembered the strange woman with the Russian Wolfhounds. The location of the former house and kennel, she said, was on our way out of town.

The lawn of the lovely house was now strewn with toys and kids. The fields where once gazehounds had romped now fed a ranging flock of chickens and a couple of goats. I stood outside the fence imagining what it must have been like for that young girl, dreaming of dogs floating along, barely seeming to touch the ground.

The harried owner came out. She knew nothing about the property's past, but directed us to a small barn out back that had stood for many years. Harve and I picked our way through the ramshackle structure, finding the rotted remnants of leashes and bits of chain.
On the ground, partially buried, was an old gate with a Borzoi finial.
I brushed it off. It seemed the only remaining link to that old kennel, the Iskra hounds of Mrs. Chantler and what had once fueled the imagination of a young girl in a tree. I pried the gate up, Harve removed the finial and, yes, I stole it and I've prized it ever since.
.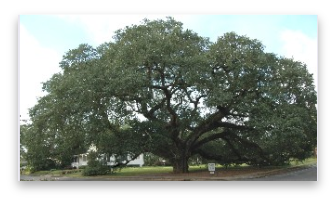 In the early 1980s, Harve and I became victims of what was known as the Reagan Recession. Before today's current troubles, it was the deepest economic downturn since the Great Depression. We were living in a small Alabama town and there were no jobs to be found. Harve was offered a job as the assistant city engineer in the south Georgia town of Thomasville, not far from the Florida border. We packed up our stuff and hit the road.

Though I was still homesick for my Alabama log cabin sitting on a mountainside surrounded by woods, I had to admit that Thomasville was a jewel of a small Southern town. On one corner stood "The Big Oak," a magnificent live oak that predated the town and was witness to the American Revolution. It is said to have sprouted from an acorn in 1685 and now has a trunk circumference of over 24 feet with a spread of 162 feet.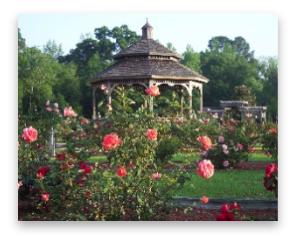 Somewhere along the way, Thomasville became known as the "City of Roses." Sometime in the 1920s, the city began hosting a Rose Festival and it just seems to get larger with each passing year. It was amazing to me to see the most mundane places—warehouses, gas stations, etc.—with beds of roses out front. The city even has its own rose gardens, with more than 500 plants.


During America's Gilded Age, wealthy Northerners and Midwesterners arrived at the Thomasville depot in their own private rail cars. These were the days before Henry Flagler extended the railroad to Florida and Thomasville earned a name as a winter resort town. Large hotels helped house the 12,000 to 15,000 visitors who arrived each fall. Those who tired of hotel life built elaborate winter mansions on Thomasville's tree lined streets. Many of them have survived to the present day and some are open to the public. Still more open their doors for a Christmas tour each year. One of my favorites was constructed by a man who had survived Chicago's great fire, the one started by Mrs. O'Leary's cow. Fearful that he would once again be trapped by a blaze, every room in the house sports a door to the outside.

Outside of town, these newcomers purchased old pre-Civil War plantations or bought land and constructed showplace plantations of their own. In its heyday, there were over 70 plantations, comprising more than 300,000 acres. Here winters were spent riding horses and hunting amid the pine, oak and dogwood forests. The woods around Thomasville teemed with whitetail deer, turkey and quail. In fact, this was considered the heart of quail country.

A vibrant winter social scene developed in the area. Parties abounded and the roads, both inside and outside town, were filled with carriages ferrying people in the latest New York and Paris fashions from party to party.

The plantations each maintained their own kennel of hunting dogs; some had hounds, but most specialized in bird dogs, especially Pointers and Setters. These were large kennels since the dogs were not solely for their owner's use. There had to be trained dogs ready should some visitors or party of visitors decide to strike out hunting on their own. Managers, dog trainers and attendants were employed as staff for these operations.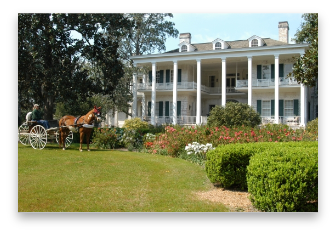 Sadly, most of these old plantations no longer exist. They have been divided into smaller farms or developed into subdivisions. Some, like the 3,300 acre Myrtlewood Plantation, have stayed in existence by offering hunting vacations to sportsmen. If you wish to see what things were like in the olden days, you can visit the 3,000 acre
Pebble Hill Plantation,
purchased by the Hanna family in 1896, which has been converted into a museum. Presidents Eisenhower and Carter, as well as the Duke and Duchess of Windsor have been among the honored guests. If you visit, be sure to check out the great collection of sporting paintings in the main house, including ones by Maud Earl, Edmund Osthaus, Thomas Blinks and John Emms. And, if you happen to have a spare seven million dollars or so on hand, you can buy Rosewood Plantation which is now on the market.

In the first few weeks that we lived in Thomasville, I read up on the area's history. I was intrigued by the tale of those old plantations and, map in hand, began to drive the rural roads outside of town. I passed through forests of old longleaf pine, their dark green needles sometimes 15 inches long. Their huge trunks, in the past tapped for turpentine, were now charred from the recent burning of underbrush. I stopped some days to have a picnic lunch in their dappled shade, the air filled with that sweet pine scent.

On one of my outings, I stopped the car to watch an older man training an adolescent English Setter. I smiled as he struggled to get the dog's attention. The puppy was much more intent on playing. He noticed me and sauntered over. Once we began talking, his frustration melted into laughter. What can I say? Dog people always find a common bond, regardless of age, breed or place. My new friend was the kennel manager and trainer on a plantation, a position he had inherited from his father. He had lived among these whispering pines and walked these sandy roads all his life. We must have talked for an hour and I was thrilled when he invited me to dinner.

His house on the plantation was small and modest, yet homey. It spoke of working people who lived simple lives without flourish and was devoid of any modern day designer touches. I loved it. After dinner, we retired to the screened in porch and talked late into the night about his boyhood and the many dogs he and his father had known and trained. At his side, snored an old English Setter, his muzzle totally white with age. He had led a charmed life, he said, surrounded by nature, free to wander to his heart's content, able to spend his days fishing and hunting as the weather permitted and, accompanying him, all along, were generations of English Setters.

While my heart filled with joy from hearing this, he had turned sad. Times are hard, you know, what with the recession and all, he said. The owners of the plantation were talking about selling. He suspected that the deal was close to fruition. They were talking about tearing down everything but the main house, including the kennels and the home where we now sat. It would all be divided into one acre lots and offered for sale. He feared that he would spend his remaining days in a small apartment or retirement home where dogs were not allowed.

A couple of weeks later I ran into him. The sale was a done deal, he told me. All the young English Setters had been sold and the older ones had been euthanized. Tomorrow, they would be tearing down the kennels. I stopped by the next day and, with a lump in my throat, watched as the bulldozers moved in. As I was walking back to the van, I noticed one of the old gates from the kennel lying on the ground. It was topped by a steel English Setter, pitted and weathered. I managed to wrench it free and took it home with me. (That's it at the top of this month's newsletter.) For all these years, it has been my reminder of that man, those plantations and a way of life that has all but disappeared.

I placed this English Setter fence topper in our ebay store and it sold shortly before Christmas. The man who bought it wanted it as a gift for his veterinarian, who raises the breed. I can't tell you how happy it makes me that this is going to an English Setter person. I thought I would feel sorrow selling him, but instead it feels like I have only been a temporary guardian and that now this old metal dog has found a new home where he belongs. May he watch over many more generations of proud English Setters.


So, now you have my confession. This is the story of my stealing steel dogs. Somewhere among the mountains of doggy stuff that I have is a Collie fence topper from an old kennel, but that's another story for another time.

I hope that you are having a nice start to the New Year and that your resolutions have all been made. I hope that your collections all grow in 2011 and that they make wonderful memories for you.


Happy Collecting,


Cathy, Harvey, Matt & Cocoa


P.S. The photos of the Big Oak and the rose gardens are from the
Thomasville, Georgia website.
The photo of
Pebble Hill is from their website.


P.S.S. I haven't yet placed the lovely Sunset poster featuring the woman and the Borzoi in our ebay store. If you are interested, either check back or send an email to send an email to Harvey at flamholtz@charter.net