Newsletter 15
Collecting Bulldogs
February 24, 2011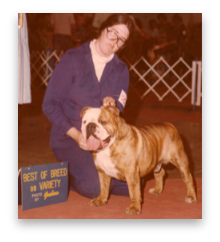 Hi Everyone,

This month I'm in full Bulldog overload. I've had brushes with three Bulldog collections and I love it!!! I've always loved Bulldogs. The photo heading up this newsletter shows me back in the 1970s (many, many years and many many pounds ago) showing a dog named Butch.

Traveling around the state of Florida with Butch gave me a glimpse of what it is like for those devoted souls who are serious Bulldoggers. Several times we were forced to pull into a motel, literally throw money on the counter requesting a room immediately and hustle Butch into a tub that we filled with water. It was a matter of life or death.

I remember speaking to several old Bulldog men one time and I asked them how they coped with these instances of heat exposure. One man who had shown his dogs in the 1950s recalled instances where he had pulled up to farms and offered them money to be able to use their bathtubs. On one occasion, the farm wife had not only turned him down, but ordered him off the property. He availed himself of a washtub and the garden hose and was still ignoring her when the sheriff arrived. Lucky for him, the sheriff liked Bulldogs.

The other gent had shown Bulldogs during the 1920s and '30s, when show rings were dominated by wealthy owners who brought large strings of dogs to the shows. He had rambled around the Midwest in an old Model T with a couple of Bulldogs. Before leaving home, he marked maps with the location of every creek and stream and he and his Bulldogs would stop for swims along the way. When he and his friends took their dogs on trains, they would arrange, in advance, to have blocks of ice set in the cargo cars and they would ride there along with their dogs.

Oh, I know there are some out there who will question whether it is correct for a dog to survive who is obviously so hampered by his conformation. They point out that, in addition to the problems with heat, many Bulldogs can't breed naturally and have to deliver their pups by C-Section. As one of my friends use to say: Is it right that the cheetah is endangered yet the Bulldog thrives?

Survival, though, means finding a niche and the Bulldog certainly has found one. With the demise of bull baiting, the Bulldog was literally out of a job and obsolete. Folks who loved the dogs refuse to allow them to die. They took those very qualities that were important in bull baiting: strength, low center of gravity and a pushed up nose that allowed the dog to hang on and still breathe, and they exaggerated them. At the same time, they turned an aggressive, surly and often belligerent dog into one of the sweetest creatures on earth.

Well, I've done it again. I started talking about dogs and got off my topic: Bulldog collections. I don't know about you, but I'm always thrilled to see what other people have collected. And, because of the website and ebay store, people have contacted me with collections that they are interested in selling. Much as I repeat to myself daily: "Cathy, you are selling, not buying," sometimes opportunities present themselves that I simply can't resist.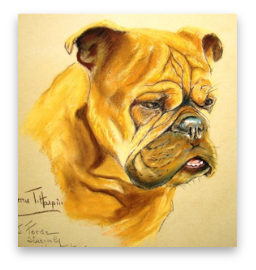 In November of last year, the Samuel W. Seidman Bulldog collection came up for auction. Mr. Seidman was a realtor and winery owner from Waltham, Massachusetts who first became acquainted with Bulldogs during his college days when he fell in love with his roommate's dog. For the next 50 years, he would own a Bulldog. All of Seidman's friends knew how fond he was of his dogs and, about 30 years ago, they began buying him Bulldog items. When they traveled, they would always return with some Bulldog memento.

Crayon on paper by Warren T. Harp III, 1936
In the late 1980s, Seidman was bitten by the collecting bug. He began actively searching for Bulldogiana and filled rooms in the historic Gov. Samuel Walker McCall Mansion, where he lived, with his finds. He now actively enlisted all his friends to go on Bulldog search missions when they traveled. Friends touted it as Sam's own private Bulldog Museum. He carefully catalogued all his finds and kept records on what he had paid for each item. By the time he died, in 2008, there would be almost 5,000 pieces in the collection and the ledgers said Sam had spent close to $500,000.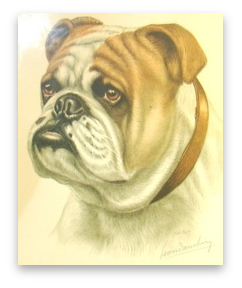 What's amazing, in looking at Samuel Seidman's collection, is the staggering scope of items it contained. The man collected everything, from items valued in the thousands to those worth only $1. There was artwork of every description from oil paintings to postcards. Sam bought every piece of advertising featuring Bulldogs from old pieces from the 1800s to current ads which included the breed. There were thousands of figurines, from Royal Doulton to tiny pieces made in Japan. Napkin rings, canes, humidors, ashtrays, inkwells, door knockers, pitchers, plates, majolica, netsuke, banks, cookie jars, busts, plaques, toys, stuffed animals, puppets, trophies, stools, pillows, pipes,
....... ..
.
Leon Danchin etching
.
....

playing cards, Yale Bulldog memorabilia,
an ice bucket, a spittoon and even an elaborate carved bench. There was also every type of jewelry you can imagine which featured Bulldogs. I've included photos of a number of pieces (including a couple I bought) here just to give you an idea.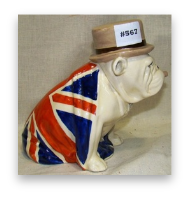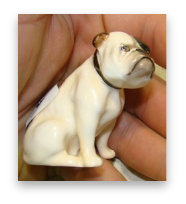 Three Royal Doulton pieces. On the left is the rare sitting Bulldog with draped Union Jack and Derby, from the 1940s. Mr. Seidman over paid $2,500 for this one. In the center is the miniature, marked K1, which first came out in 1931 and was made for many years. On the right is a very rare ashtray with a match holder and a striker edge. Seidman paid $1,500 for this and it sold for $1,600 at the auction.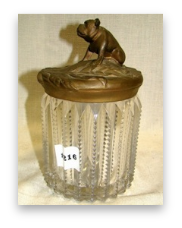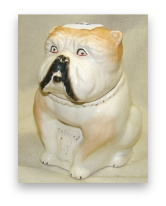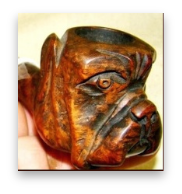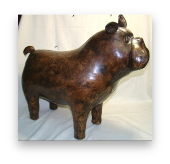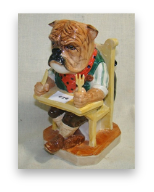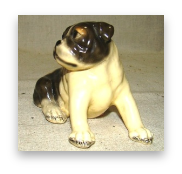 To me, Samuel Seidman's collection was reminiscent of another great Bulldog collection that I had heard about: the Vardon collection, but more on that later. I had also heard tell of a couple of large Bulldog collections assembled in England back in the early 1900s. The breed is so iconic that it just seems to inspire people to collect.

In 2008, when Sam died, his friends contacted H.G. Webber, a New Hampshire appraiser and auctioneer, to sell the collection. It took Harvey Webber more than two years to catalog, organize and photograph the entire collection. Smaller items were lumped into lots, sometimes with as many as 40 pieces. In all, there were about 1,200 lots in the auction.

One of the more unusual items in the Seidman collection is this carved wooden bench held aloft by two strong Bulldogs with a pair of Bulldogs on the back. The appraisers dated this 1970-1985. It stands 30" high and is 54" wide.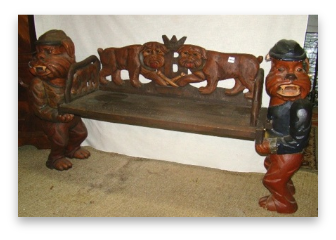 Don't laugh! This is a chastity belt from about 1900 with a Bulldog guarding the maiden's honor. It's made of hammered copper and studded with colored rhinestones. It came complete with a padlock.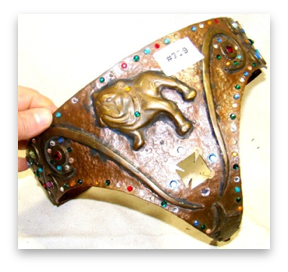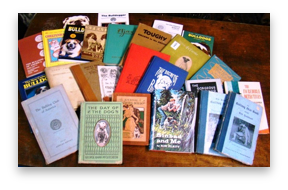 By the time Mr. Webber got around to the Bulldog books, I think he was clearly exhausted. All of the Seidman books, totaling around 150 in all, were lumped into four lots, which were labeled: "Book lot asst. titles from turn of the century to modern." I've included here a photo of how each lot was displayed. The titles of the books were not listed, but I could see from the photo that there were some goodies in there. So, I bid and bought all the books in Samuel Seidman's collection.

It took almost two months for the boxes loaded with books to arrive. I began to fear that something had gone awry and perhaps they had been lost. On January 31st, the first box arrived and the others followed later in the week. (Those of you who have wondered why I haven't placed any items in our ebay store in the past month, now have your answer. I've been making templates for all the Bulldog books, deciding to put them all up in one fell swoop.)

Ah, what treasures I found in that collection. Not only had Sam paid attention to his art and figurines, he had taken care to assemble a great Bulldog library. Almost every great Bulldog book published since 1900 was in Sam's collection. And, as I made my way through those beautiful stacks of books, I brushed shoulders with two other collectors.

Apparently, Sam Seidman had purchased the collection of another Bulldog collector, Paul S. Shaver, a man with a penchant for sticking a label on every book he owned. I came across "From the Library of Paul S. Shaver" on many volumes. Curious, I tracked down what information I could on Shafer and found that he was from New York and records show that he bred Bulldogs in the late 1800s up to the 1920s. Shafer had some wonderful things in his library, including every edition of the rare book Bulldogdom, by Sturgeon. I found one incredibly rare item from Shafer's collection:
a copy of The English Bulldog in America, the first American book on the breed. Written by H.C. Savage, in 1918, this book is almost impossible to find.
I spent time poring over all my old catalogs and booklists from the past 40 years and couldn't find a single copy that had come up for sale. Annette Hurst, of Torwen Books, was kind enough to peruse her lists of dog book collections and came up empty, too. Most bibliographies of the breed (that of the Bulldog Club of America is an exception) don't even list this title. In fact, the only copies that I know that exist are one in the AKC library and another in the Chapin collection, housed at the College of William and Mary. And, just to put the icing on the cake, the copy from Shafer and then Seidman's collection, was SIGNED! Definitely time for the happy dance!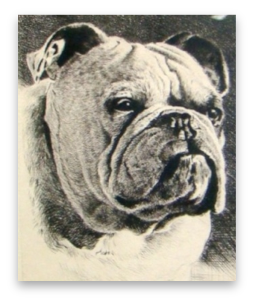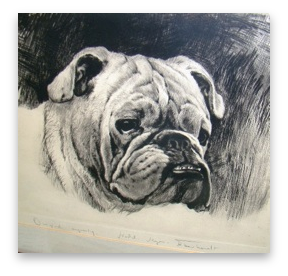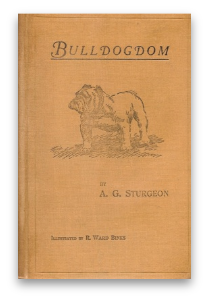 I came across another copy of a book in Sam Seidman's collection that stunned me. Among the copies of
Bulldogdom
was a rare 1st edition in hardback.
I've owned and sold several copies of this book and never realized that there was a hardback edition. I marveled at the wonderful condition on the book and then got a surprise when I opened the cover. It was inscribed "To Edward M. Vardon, M.D., Detroit, with kind regards, A.G. Sturgeon."

Only you fellow gray hairs out there will remember Edward Vardon or his wonderful dogs. The owner of 90 champions and breeder of 31, Vardon is in the Bulldog Club of America's Hall of Fame. He was also a prominent member of the Detroit Bulldog Club and served as President of the Bulldog Club of America.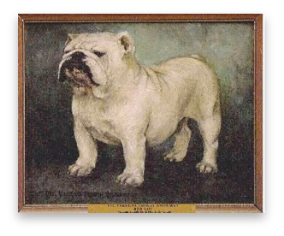 Vardon's most famous dog was Ch. Vardona Frosty Snowman (better known as Tubby) who was the top winning Bulldog and top Non-Sporting dog in 1958, 1959 and 1960. Tubby, who is also in the Bulldog Hall of Fame, won 38 Bests in Show, all owner-handled. He amassed 119 Group Firsts, including winning the group at Westminster in 1960. In 1959, he was Best American-bred in Show at Westminster, back when they gave out that honor. I suppose he would have gone Best in Show were it not for the English import Poodle who won that year. But what is really remarkable, to this day, is Tubby's record of specialty wins. He won the Bulldog National Specialty for five consecutive years and topped 40 specialties. He also sired 14 champions. Indeed, two of his children, also owned by Dr. Vardon, won the National Specialty, too.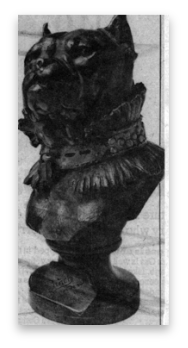 I have no idea where Samuel Seidman stumbled across this volume of Bulldogdom which came from Dr. Vardon's collection, but it's interesting that this book links two legendary collections. In fact, Dr. Vardon and Sam were much alike in their collecting habits. Vardon bought every Bulldog item he came across, from the humble to the great. He had more than 1,500 pieces in his collection which included copies of every Bulldog book, hundreds of paintings and prints and, probably, many of the pieces found in the Seidman collection. One of his favorite acquisitions was a 1683 print showing bull baiting on the frozen Thames River. He also managed to acquire collars that had been worn by Lord Byron's Bulldog and one owned by Teddy Roosevelt.

It was said that one of the reasons that Dr. Vardon showed his own dogs was that it aided him in adding to his collection. After each dog show, he would stop at antique stores, thrift shops
....
a bronze Bulldog bust
and bookstores in each town in search of Bulldog
.....
The Vardon Collection

items. He also had antique dealers in England who

kept an eye out for choice pieces for him.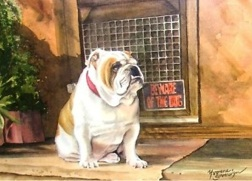 When Dr. Vardon died in the 1970s, his collection was appraised at $500,000. Everything was crated up and moved from the Vardon home outside Detroit to Chicago. It would remain in storage for 12 years. In 1982, Vardon's heirs donated the entire collection to the AKC's Museum of the Dog, then in New York.

"Beware of the Dog," a print by Yvonne
Sovereign, found in our ebay store
Will we see collections like these again in our lifetime? Perhaps. Who knows what's hiding out there in private homes or crated up in storage? On the one hand, one hates to see such wonderful collections dispersed. But, if they start a new round of collecting, that would be great!

Happy Collecting,


Cathy, Harvey, Matt & Cocoa

P.S. Thanks to
H.G. Webber
for the photos from the Samuel W. Seidman auction and to the
Bulldog Club of America
for the photo of Frosty Snowman's painting which hangs in the Bulldog Hall of Fame.

P.P.S. Turn the page if you'd like to see a few more items from the Seidman Collection.