Newsletter 4
The Influence of Dog Books
February 10, 2010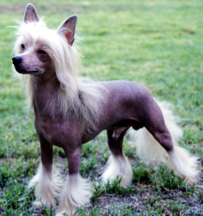 First, an apology for taking so long to get this newsletter out to you. I started it a couple of weeks ago, didn't like what I'd written and set it aside until I could come up with something better. It's been cold here in Georgia, but we have had only one small snowfall. I hope that most of you are doing well as deep snow blankets much of the country.


On to books: I have now finished listing all of my duplicates. Yes, I'm actually taking books off the shelves in the library and posting them to the ebay store...finally! I'm working on the Bulldog books now. I just pray that no relative or old friend calls announcing that they'd like to come for a visit. The library is reasonably neat, but the living room is a disaster. There's a table in there now that's piled high with artwork and there are larger pieces propped against the walls. I have a rack in one corner holding unframed prints and several boxes stacked high in another corner. A friend who is an interior decorator would, I am sure, describe the room as Early Warehouse.


Last week I had one of those moments when you hit yourself up side the head while repeating the words, "stupid, stupid, stupid." A thought came to me with such startling clarity that I was stunned that I hadn't realized it before. It explained everything about the course I had charted as I careened through my years in dogs. Had I realized it 40 years ago, I would have saved myself untold grief and been much happier. Perhaps, though, it's something you can only see when you have sufficient gray hair and are far enough away from events to gain true perspective.


In the last newsletter, I talked about the power of dog books. Now, I'm going to discuss the influence of dog books or at least the influence one specific book had on my life. This realization came to me, like the proverbial lightning bolt, as I was adding books to the ebay store and picked up a copy of the 1958 National Geographic Society's Book of Dogs. It's a marvelous book...great writing, incredible illustrations, terrific photos...I could go on and on. This is the edition with the fabulous Megargee illustrations.
(Click here to see illustrations from the 1919 and 1958 editions.)

The Book of Dogs was one of the very first dog books I read. It captivated me right from the start. This was not a book with just photos of each breed along with a short write-up, in academic tones, on origin and history. It begins with a chapter on Westminster which allows you to gawk at photos of fabulous dogs in all their glory. The next chapter, "The Dog Through the Ages," is replete with reproductions of works of art, drawings and photos (I can still remember the photo of the aborigine hunting kangaroo with a spear.) Preceeding each group of dogs, there are terrific introductory chapters that whet your appetite for the profiles of the breeds that follow. The paintings that accompany the section on each breed are Megargee at his best. These are not static drawings of posed dogs, but vibrant images that show the dogs in their typical settings or doing what they were bred to do. Some just draw me in while others leap off the page at me. The Labrador emerging with a duck from the pounding surf. The Irish Setter with his mahogany coat which blends and contrasts with the fall foliage. Black and Tan Coonhounds, their voices raised in song, trying to climb a tree to get at a racoon. A quartet of Dachshunds ringed around a hole in the ground. A Puli riding the back of an errant sheep. A pair of massive Great Danes poised before the iron gates of a compound. A lone Bernese Mountain Dog perched on a peak in the Alps, surveying the villages in the valley below. A Doberman leaping purposely in the air as a canvas clad trainer extends a hand with a gun. Two Staffordshire Terriers embroiled in play-fighting as another runs to join the fray. Dalmatians jogging beside the wheels of a carriage. A Keeshond carrying the newspaper for his wooden-shod master. I'll never know why, perhaps he became ill, but Megargee did not do the drawings for the section on the toy breeds. What a shame. Okay, okay, I've rambled on long enough. I'm sure you get the idea: I still love this book.


Would my life in dogs have been different if this wasn't one of the very first books I read? Would things have gone differently if, after purchasing my first purebred, I'd bought only books about that breed, supplemented with books on training and care? Would I have been like most people who fall in love with a breed and stick with it for years? How many times have you heard someone say: "Once a (fill in the breed) owner, always a ____ owner"? Or, did this book, with its amazing smorgasboard of breeds, forever brand me as a multi-breed person?


I believe, looking back that it did ultimately determine my interests in dogs and that I spent years trying to ignore that destiny. We had owned our first Weimaraner for about a year when we acquired a Beagle. (True story for a future newsletter: How I Left Home to Get a Saint Bernard and Came Back with a Beagle.) I was brimming over with enthusiasm as I told those at the Weimaraner club about our new family acquisition. One woman, owner of several champions turned to me, rather haughtily, and said: "I don't know how you will ever find the time to do justice to two breeds. It takes all my concentration to just breed good Weimaraners." Slap! It put a definite damper on my fervor.


Ever since then, I confess, I've been jealous of those one-breed devotees...those people who spend a lifetime with a single breed of dogs. They are the backbone of the dog world. I have always been inspired by their dedication and committment. Often, they have made great sacrifices for the breeds they loved.


In the late 1960s or early 1970s, I met one such breeder. Debora Wood lived in Homestead, Florida and raised Chinese Cresteds. Correction: she saved the breed from extinction. For about 30 years, she was the sole breeder of Chinese Cresteds, with the exception of a few dogs bred by entertainer Gypsy Rose Lee. (Debora's dogs are pictured in How to Raise and Train a Chinese Crested.) I spent a wonderful day with her as she paraded dog after dog before me, explaining about the different types within the breed. Though she had her preferences, she felt it was important to keep as much diversity as she could. It was a very lonely vigil for her, but she was convinced that one day the breed would be AKC registered. Most people would have thought she was downright loony when she told me that she hoped to be sitting ringside someday as she watched a Chinese Crested go Best in Show. How I wish she had lived to see the fruits of her years of struggle! Today, most Chinese Cresteds can trace their roots to her Crest Haven Kennels.


The randomness of success in the dog show world has always perplexed me. As Americans, I think we are used to a simple formula: education+hard work=success. That doesn't really seem to have a correlation to breeding dogs. For some success comes easily, while others struggle for years.


One of my Weimaraner friends, Karla, hit it big right from the start. She and her husband, Marty, set out to buy a pet for their children and Kris came into their lives. She was not the daughter of champions and they had no interest in showing her. When she was grown, they decided to breed her so that their kids could see the miracle of birth. Yes, it's the very thing we caution people not to do! Kris was bred to an up-and-coming show dog and the litter they produced changed Karla's life. In that first litter, if memory serves, Kris had 11 puppies, all of whom became champions! Along the way, Karla decided to show Kris herself and she earned her championship and completed her CD. The breeding was repeated several years later, but the results were not as impressive. Still, they added three more champions to Kris's record. Soon, Karla was running a kennel and her husband was a professional handler.


Most folks aren't that lucky, of course. By contrast, another friend of mine had the patience of Job. Like that Biblical character, her foray into the world of dogs was beset by a series of calamities and disappointments that would have sent many scurrying to buy a cat. I met Lila when she and her dog Mike enrolled in an obedience class Harve and I were teaching. Though he was purchased from a pet store, Mike was really a nice specimen of his breed and he showed a real talent for obedience. With our encouragement, Lila decided to compete in obedience and Mike quickly earned his title with high scores. At one show, Lila entered Mike in conformation just to see what happened and he went Best of Breed over a lovely champion bitch. Since we taught only novice classes, Lila enrolled in another obedience school and began training Mike for his CDX. The instructor suggested that Mike should be x-rayed before he began jumping. You guessed it...hip dysplasia.


Most people would have been devastated, but not Lila. She saw this as an opportunity, a chance to hit the reset button. She neutered Mike and set out to find a foundation bitch. She read everything she could get her hands on, pored over pedigrees and talked to breeders. This time, she decided to purchase an older bitch who had already been x-rayed. One breeder, who had been told about Mike's story, offered her an 18 month old bitch who already had points toward her championship. She had been x-rayed, but wasn't yet old enough for OFA certification. When Frosty arrived, Lila sprang into action. In the next few months, the dog earned her CD and a four point major. Then came the day, six months later, when Lila took her in for her final x-rays. She was stunned when the vet informed her that it was one of the worst cases of hip dysplasia he'd ever seen.


Most people would have sworn off the dog world, railed against breeders and viewed this as some kind of message: you are not meant to be in dogs. But, not Lila. She has, as we say in the South, gumption. She licked her wounds for a couple of weeks and then, a la Scarlet O'Hara, raised her fist to the sky and declared that she would not be defeated. On the next try, Lila did get her foundation bitch, who promptly finished her championship, earned her obedience degree, x-rayed normally and went on to produce a couple of champions. No, things weren't always sunny for Lila from then on. There were still disappointments along the way. Her first ever Group winning dog turned out to be sterile and the best bitch she bred hated the show ring with a passion.


I've done it again, haven't I? Veered off track and started to tell stories.... I just can't seem to help myself. These newsletters are a journey for me, but it's not like the straight roads that you find in cities and towns. No, it's more like a meandering country lane which winds past woods, streams, pastures and houses where I stop to sit for a spell.


So, much as I admire the incredible devotion of single breed folks, that's just not me. At shows, I moved from ring to ring, eager to see as many breeds as I could cram into the time. I spent one weekend at a field trial and the next at a sheepdog trial. I went to the dog racing track and the next Saturday went to a lure coarsing event. I was fascinated with sled dogs, racing and weight pulling. I went to earthdog trials and spent nights with Coonhounds. One memorable weekend I spent with a man who trained dogs for commercials and movies. I literally stared death in the face when I tripped during a boar hunt.


For years, I tried to be a one-breed person and failed. It was like trying to pound my round pegged self into a square hole. It took me 20 years to realize that my true talent was in writing about all breeds of dogs. And, it took me until last week to realize that it was all began the day I opened the covers of the National Geographic's Book of Dogs.


Hope you are having lots of fun looking through all the new titles we've added to the ebay store. As always, feel free to pass these newsletters along to your doggy friends. If you have any favorite sites or forums, please post a link to the dogcrazy books website.

Thanks!

Best to all,

Cathy, Harvey & Cocoa


PS. A special thanks to Julie Wells for the use of the Chinese Crested photo which tops this newsletter. I was blown away by the dogs on her website so you might want to check out her
Jewels Chinese Crested
and see for yourself.