Newsletter 18
Doggy Good Deeds &
The Saving of Sunnybank
July 26, 2011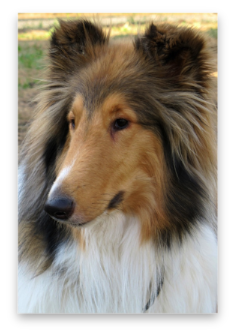 I recently found myself at dinner with three women acquaintances. All of us were on the wrong side of 50 and, it seems, my fellow tablemates have become plagued with doubts about what they have accomplished in their lives. Two of the women were Christians and they had what they called "pearly gate" dreams. No sooner do they drop off to sleep then they are faced with a stern Saint Peter, clipboard in hand, totaling up their pluses and minuses. The other woman was Jewish and she's become obsessed with doing mitzvahs, good deeds that are tallied up annually in her personal Book of Life.


After baring their souls, they turned to look at me. What? I said, as I stuffed a brownie in my face. Seriously, I'm preoccupied and consumed with thoughts of all I want to do in the future. I've never stopped to look back.


But, it's a bit like someone who hums a song and then you can't get it out of your mind. And, since this newsletter is about dogs, I've begun asking myself what contribution I have made to dogs. In the big scheme of things, not much. I've written articles and books on dogs, but that's not exactly special. Some of the people who have read my books have been inspired enough to import and introduce breeds to this country, but that seems to me like a second-hand achievement. Back in the days before the rescue movement, I rehomed a few dogs. Nice, but I could have done so much more.

So, if you're like me, and you are now questioning yourself (THANKS, CATHY, NEEDED THAT!), I thought I'd give a shout out to folks who have really made a difference. What's amazing to me is that this was not just a quick endeavor, these dedicated people have struggled and persevered for decades. In Newsletter 11, I mentioned the annual Gathering at Sunnybank, home of Albert Payson Terhune. Now, I'd like to tell you about some of the people that saved Sunnybank. If you like dog books, dog writers, history and, like me, you have a sentimental fondness for old kennel sites, I think you'll like this story. And, it allows me to do a mini good deed, too: giving some publicity to the Gathering at Sunnybank on August 20 & 21, 2011.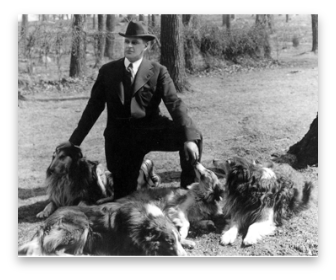 Albert Payson Terhune is one of America's most beloved writers. For kids in the 1920s, '30s and early 1940s, he was god-like. His stories were exciting adventures, but they were based on real dogs, the Collies he raised at his summer home in New Jersey, named Sunnybank. Unlike Lassie, who never ages, the Sunnybank Collies were pups, youngsters, mature dogs in their prime and grizzled old timers. And, when their days were over, they died and were laid to rest on the grounds of Sunnybank.


For Terhune, Sunnybank was always simply The Place.
A curved road wound up a wooded hillside to a big old rambling house almost covered in wisteria. Green mountains encircled The Place and a wide lawn sloped gently to a blue green lake. Collies swirled around the Master and Mistress of Sunnybank, as Terhune called himself and his second wife Anice, as they walked to the lake to sit and enjoy the sunset. There were secret places like the lily pond, presided over by Jack the Bullfrog. There was a boathouse from which Terhune would row out for an afternoon of fishing and oak woods where he would hunt. On the way back to the house, he might make a stop at the puppy house, where future Sunnybank champions vied for attention. And, there were the graves, those revered places where Lad, Wolf, Bruce and all the other Sunnybank Collies were laid to rest.

SUNNYBANK IN THE OLD DAYS
Top row: The old driveway. The Sunnybank house as it appeared in 1898. In later years, the wisteria would cover more of the house.
Bottom row: Anice Terhune by the lily pond. Albert Terhune with Sigurdson, Jean and Gray Dawn on one of Sunnybank's many benches.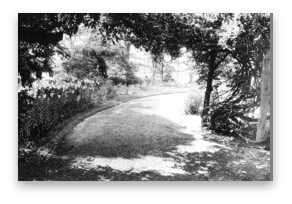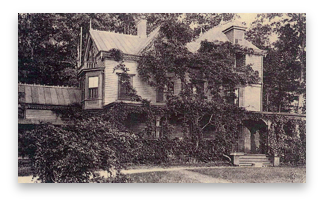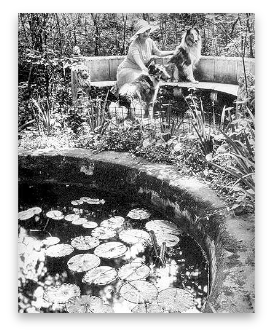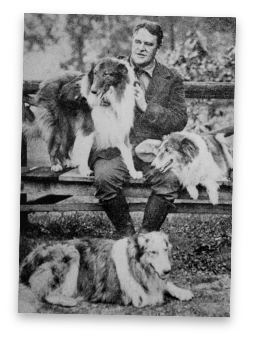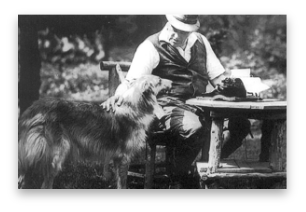 In Terhune's heyday, visitors regularly journeyed to Sunnybank. During the summer season, with the children out of school, parents brought them to see the Collies and meet the Master and Mistress. It wasn't always easy for the Terhunes. Bert was a prolific writer. Sunnybank was the perfect secluded place for him to spend hours writing. He had a desk in the library and
makeshift writing places strewn throughout the property: an old kitchen chopping block in front of the gliding swing and a rustic table before almost every outside chair. It became necessary, though, to stop work and play host to the visitors. It was not only because they demanded to see the Master himself, take photos and ask questions, it was also a necessity to protect the Sunnybank Collies. Children clambered all over the dogs, wanting to ride on their backs, pull their ears and tails and, of course, there was always the danger that someone would abscond with one. Terhune hated the intrusion of all the cars. One of his favorite dogs, Wolf, herded a bunch of puppies off the drive just ahead of squealing tires. It became necessary to erect a gate and gatehouse with someone to staff it. Lad was the first star of Terhune's books and the description of his death and burial touched his readers' deeply. In the summer following Lad's death, 1,700 visitors trekked to Sunnybank to see his grave until Terhune was forced to put a "No admittance" sign on the iron gates.

On February 18, 1942, Albert Payson Terhune died at Sunnybank. Anice would remain there for the next 22 years, penning her own books, protecting Bert's legacy, greeting the occasional visitor and corresponding with the children who still sent fan letters.

In 1964, Anice Terhune died. Everything in the estate went into a charitable foundation and Sunnybank was on the chopping block. Before anybody really realized what was happening, 30 of Sunnybank's 40 acres had been sold. A real estate agent in Pompton Lakes had purchased the last 10 acres, which included the house, kennels, the barn and the gazebo. Sunnybank was to become another housing development.

That's when one woman stepped in: Claire Leishman, of nearby Paramus, New Jersey. Simply put: without Claire there would be no Sunnybank today. Claire loved Collies and she had visited Mrs. Terhune at Sunnybank. Early on, two other Sunnybank visitors signed on to help.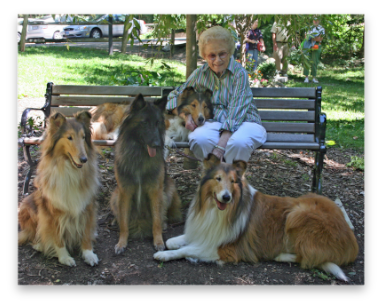 Judy Leathers fell in love with the Terhune stories when she was a child. "I had the honor of meeting Mrs. Terhune at Sunnybank in July 1960," Judy says. "My friend Diane and I had read the books and corresponded with her and then she invited us for a visit. I was 13 years old." Kathy George was in her late teens when she and her sister went for a drive and stumbled upon Sunnybank.

In 1965, Claire Leishman realized that something must be done, and quickly, if Sunnybank was to be saved. This dynamo launched a two-prong assault to rally support for Sunnybank. First she had to mobilize local support to stop the development and persuade the township to purchase the site for a park. She also mounted a nationwide campaign to show the town council members that Sunnybank was a national treasure and people far and wide cared about its survival.

Claire worked with the newly formed Citizens for Sunnybank as well as a local women's club and several other groups to protest the sale. The President of the Wayne Township Council was a Sunnybank supporter as was Charlie Kelly, the head of the Parks Department. Don Yott, the librarian at a local high school, turned into a PR person, writing press releases for the local media. Howard Ball, a writer for a local newspaper, wrote many articles about Sunnybank and championed the park idea.

Claire wrote to Collie clubs all across the nation. She began a regular monthly Sunnybank column in the magazine Collie Cues. Letter writing campaigns were started and money was raised. In addition to the New Jersey Collie clubs, groups in California, Arizona and the Southwest were extremely supportive.

In the end, it was a very close 5 to 4 vote to save Sunnybank. The Township of Wayne purchased the property for $145,240.92, all but $9,000 of which was reimbursed by a Federal Open Spaces grant and one from the State Green Acres. Terhune Memorial Park was born. Not all of the battles would end so happily. Though Claire and others had managed to raise enough funds to restore the house, the township declined to take on the project. On April 29, 1969, the bulldozers moved in and the house and barn were razed.

Claire and the others who had worked so long to save Sunnybank formed the Terhune Sunnybank Memorial. This group has been responsible for preserving and restoring Sunnybank. And, oh, what they have accomplished. They have cleared and marked the graves of the Sunnybank Collies, have repaired the evening lookout and placed numerous signs. The puppy house has been rebuilt and there are benches, including one honoring the Terhunes and Claire Leishman. Soon there will be a walkway around what was the old lily pond and a tribute to Jack the Bullfrog. Year in and year out, they have come up with imaginative fund raising ideas. Certainly, this core group of people working to preserve Sunnybank have, by their good deeds, secured their place in heaven.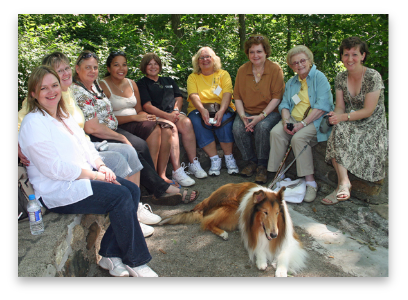 The Ladies of Sunnybank at the restored Lookout - from left to right: Kathy George, Kathleen Wakkila, Donna McKoy, Kendra (Donna's daughter), Diane Kapostasy, Judy Leathers, Marilyn R. Horowitz, Claire K. Leishman and Krissy Marshall, who is holding Ch. Eagleslook Explorer (known to his friends as Hobo)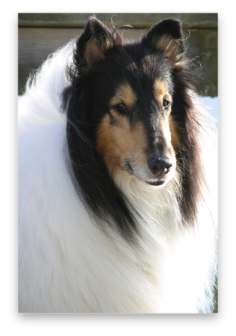 And, for one magical weekend a year, the Collies return to Sunnybank. A procession of cars, vans and motorhomes winds up the drive. Collies, this time on leash, swirl around their owners' legs. There are more puppies here than were born in all of Terhune's litters. And on the green lawn where Terhune probably trained his Collies before taking them to shows, tents dot the green grass offering shade and Collies of all ages strut before judges. Longtime breeders give seminars where they share their wisdom. Collies rescued from abusive homes or those canine souls that no one wanted parade proudly beside champions. And the whole shebang culminates in the Lad of Sunnybank Memorial Match. What in the world would the Terhunes have thought?

Payson, owned by Kathy George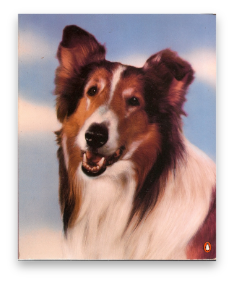 I'd like to urge you to attend this year's Sunnybank Gathering on August 20th & 21st. The Gathering is sponsored by the
Collie Health Foundation
which supports health research which benefits not only Collies, but dogs in general. On their site you will find a PDF which gives the entire schedule for the weekend. Admission is FREE, except for a small fee for the matches and a couple of other events. The theme for this year's Gathering is
COLLIES—CITIZENS OF THE WORLD FROM LAD TO LASSIE
and there's a special guest star: the one and only Lassie. Chances are, it will be your only chance to meet this Hollywood star in person.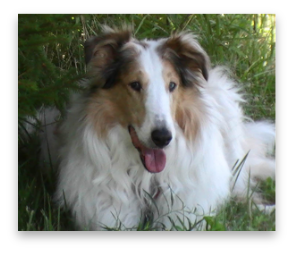 The first event of the weekend will be walking tours of Sunnybank. You will have a chance to meet and thank Judy Leathers and Kathy George who will be part of the teams conducting the tours. You can meet Kathy's Payson and Kobi (the Collie who appears at the top of this month's newsletter). Later in the day, you will get to meet Judy's Gracie Belle, who is pictured here. Gracie will participate in the Rescue Parade. Judy got Gracie three years ago via the Northwest Ohio Collie Rescue. Gracie spent the first five years of her life in a Kentucky barn. Judy says that she was so traumatized that she didn't wag her tail for six months! Now she has blossomed into a lovely Collie lady.
To tempt you to go, I'm including some photos from past Gatherings. I've borrowed the photos from the
Sunnybank Collies website.
This site is manned by Paul Bradican. Paul is a Sheltie and Dachshund owner who is passionate about Terhune and Sunnybank. Please stop by his site when you have some time and look at all the photos and artifacts, contributed by many people. Be sure to allow time to read the wonderful excerpts from Terhune's books. Paul's loving work on this site qualifies him for good deed honors, too.


While you are in town, go to the Terhune Museum at the nearby Van Ripper-Hopper House. Here you will find lots of Terhune momentos, including paintings, photos, trophies, etc. They even have Lad's collar and an old Dutch door from the original house at Sunnybank. You can still see the marks where the Collies scratched at the door.


The Terhune Sunnybank Memorial puts out a snail mail newsletter twice a year. If you are interested, please email TSMthelookout@yahoo.com

Sadly, I won't be able to attend the Gathering this year. Harvey is going to retire in two years and then we will become annual attendees. I think I'll stick around for a few days after the crowds have left, too. I envision myself wandering the grounds, a copy of Lad, A Dog in hand. I want to read the book aloud on the grounds of Sunnybank, stopping to savor the words at the gazebo, on the banks of the lake, by the old lily pond (now filled in and planted with hostas) and at the graves of all the Sunnybank dogs. I can't wait.



Happy Collecting,


Cathy, Harvey, Matt & Cocoa



P.S. I didn't mention it above, but the Collie Club of Northern New Jersey holds their twice yearly fun matches at Sunnybank.