Newsletter 19
Geraldine Rockefeller Dodge, Reuben Ward Binks and Me
or A Dog Collector's Mystery
October 5, 2011
Two traditions developed in our house back in the days when I was writing dog books. When we actually had in hand a newly published volume, we would: 1. uncork a bottle of champagne and 2. splurge on something for the collection. My biggest extravagance came in 1991 following publication of
A Celebration of Rare Breeds, Volume II.
I had struggled over that book. I had to juggle writing duties with caring for a toddler, a new job for Harvey, a move halfway across the state, buying a new house and getting settled. I say all that to explain why Harve and I went a little crazy and spent far more than we had intended.

It was about a week later that we went to an auction and I promptly lost my heart to a painting of a Schipperke by Reuben Ward Binks. In the first place, I was stunned to find any painting featuring a Schip. I mean, how often do you come across something depicting that breed?
The label indicated that this was a headstudy of "Noel," painted in 1936.
Binks' deft hand had brought the coal black dog to life before my eyes. His brushstrokes seemed to make the Schip's distinctive ruff stand out. It was the eyes, though, that really got to me. Noel just radiated intelligence and charm. One minute he would be able to con you out of anything and the next he would spring into action ready for an adventure. Oh, and there was that slight hint of the devil, too.

You get the picture. I was a goner. At the auction preview, I tried to look unobtrusive as I lurked in the vicinity of the painting. To my dismay, the piece was commanding the attention of many buyers. I found myself scowling at people who stopped to seriously gaze at "my" painting. There were lots of other impressive dog pieces at the auction, but I had eyes only for that Schipperke.

By the time of the auction I was such a bundle of nerves that Harve banished me to the car and announced that he would do the bidding himself. We discussed how much we could afford to bid for the painting and I trudged outside. I have to say a word here about Harve. He's one of those savvy auction bidders that I admire. He understands the strategy of bidding and knows when an initial aggressive bid will scare off other bidders or manages to hang back coyly until the final moment when he comes in with a zinger. Harve always keeps his head during auctions and never succumbs to the dreaded "auction fever."

It was more than an hour before Harve returned to the car. He slid silently behind the wheel. "Well?" I demanded. "We got it," he said. I muttered a "thank heaven" and let out a sigh. I felt like I'd been holding my breath the whole time. That was the good news, he informed me. The bad news? My sensible husband had paid more than three times our top price!!! Harve said that he just didn't think he could face me if he came back empty-handed.

That's when the mystery began. We brought Noel home and hung him in the dining room. I had to walk by his wall several times each day. I would find myself standing in front of the painting staring at it as though it were some religious icon. I became intensely curious about the actual dog in the painting. Just who was Noel? Had he (or she, for that matter) become a champion? Did he have some fabulous show winner? Had he made a contribution to the Schipperke breed? Who was his owner? What was the painting's provenance?

The auction catalog simply stated that the painting came from a woman's estate. I called the auctioneer for the contact information on the estate's administrator. It was their policy never to divulge a seller's name, but he agreed to intercede for me. A couple of weeks later I received a note that the painting had been purchased 1975 and that it came from the auction of the estate of Geraldine Dodge. The administrator promised to look for a receipt for me, but it was never forthcoming.

I had heard the name Geraldine Dodge before. One could devote an entire book to her and it's difficult for me to write about her without ending up with one of my five page long missives. When I started out in dogs, there were still people around who had attended Mrs. Dodge's dog show, Morris and Essex. (The show was revived in 2000, and is now held every five years, but I'm talking about the 1927-1957 original.) They talked about it with a combination of enthusiasm and awe. It probably still ranks as the largest and most spectacular one-day dog show ever held.
(Sadly, I don't have the time to write about Morris and Essex. If you will click here, I'll share some recommendations for links that will give you more information. I've also included some video links. And, of course, I couldn't resist talking about one of the dogs that appears in the videos.)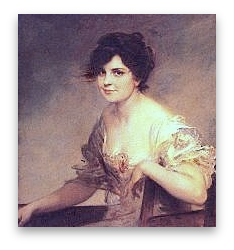 Geraldine Rockefeller was born in 1882 during America's "Gilded Age." Her Daddy was William Rockefeller, Jr. who, with his brother, John D. Rockefeller, founded Standard Oil Company. John D. was America's first billionaire and said to be the richest man in the world. Geraldine grew up in the family digs at Fifth Avenue and 54th Street in Manhattan. When they needed to get away from the city, the family could retire to estates in the Adirondacks, Jekyll Island, Georgia or North Tarrytown, N.Y. By the time she was 25, when she married Marcellus Hartley Dodge, Sr., Geraldine was worth a cool 100 million dollars. Dodge was no slouch either. The President of the Remington Arms Corporation, he brought 60 million to the marriage. They were dubbed the richest young couple in America.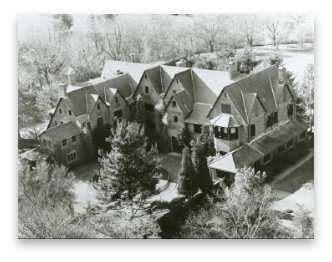 The newlyweds moved to Hartley Farms, the groom's country retreat where he could indulge his passion for horses. Dodge was into polo, show jumping and dashing over the countryside following hounds. Hartley Farms was located on a five-mile stretch between Madison and Morristown, New Jersey, where many of the nation's wealthiest families had magnificent country estates. Locally, it was known as "Millionaire's Row." In 1911, the couple purchased a 30-room house nearby that they named Giralda
(pictured above)
. Then, they set out to buy all the land between the two properties, including a Georgian mansion that served as their guest-house.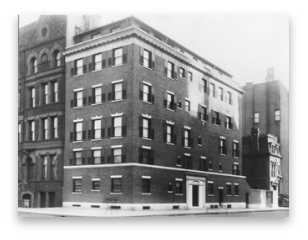 Oh, and for Geraldine Dodge's weekly forays into New York City to see her financial adviser, doctor and favorite art dealer, she built a 35-room house at Fifth Avenue and 61st Street which became known as the Dodge Mansion. She put a premium on privacy, so she bought six of the surrounding properties, demolished them, and enclosed the space with a high brick wall.
While Mr. Dodge reveled in horses, Mrs. Dodge jumped into the dog world with both feet. Shortly after they were married, Geraldine bought a German Shepherd and she would become one of the breed's great advocates and promoters. Let's face it, when you have unlimited funds, you can get the best and Mrs. Dodge made trips to Germany and Austria, bringing top winners home to Giralda Farms. She met von Stephanitz, the father of the breed, and would later invite him to judge at Morris and Essex. Indeed, Mrs. Dodge is credited with establishing the German Shepherd as a top show dog in this country and she bred many champions. She was also an early supporter of obedience competition and one of the founders of the Seeing Eye. For years, her book,
The German Shepherd Dog in America,
was considered the definitive English language work on the breed.

Like other wealthy fanciers of the day, Mrs. Dodge traveled frequently to England where she attended shows, shelled out top dollars for big winners and hobnobbed with the most successful British breeders. On a trip in the 1930s, she fell in love with English Cocker Spaniels. She purchased three dogs to take home with her. Between 1935 and 1939, she would import 23 more English Cockers. At that time, English Cockers were considered a variety of Cocker Spaniels in the U.S. Mrs. Dodge set out to see that they gained separate breed status. She was one of the founders, in 1935, of the English Cocker Spaniel Club of America and would hold every office in the Club. She undertook a massive pedigree research project to untangle pedigrees and identify lines of pure English Cocker breeding. She made the case for recognition in her 1942 book,
The English Cocker Spaniel in America
and, in 1946, the AKC recognized English Cockers as a separate breed.

While Mrs. Dodge is most closely associated with those breeds, her interests ranged farther still. Bloodhounds, Beagles, Pointers, Labrador and Golden Retrievers were just a few of the breeds bred at the elaborate facilities at Giralda Farms. More than this, though, Mrs. Dodge loved being surrounded by top specimens of breeds and she enjoyed competing and winning Bests in Show. She had a great eye for a dog and, on her travels, was always searching for another individual with star-potential that could be a top-winner for the kennel. With her checkbook, when she found a dog she liked, she was seldom denied. She had an ally in Giralda's kennel superintendent, McClure Halley. He handled the best of Dodge's dogs in shows around the country. In the 1930s, when she became entranced with Dobermans, she dispatched Halley to Germany to find her a top dog. He attended shows, visited breeders and examined hundreds of Dobermans, but could not find one dog that filled the bill. Then, he happened to spot a dog being walked in a public park and knew he had spotted his winner. Ferry von Rauhfelsen came home to America with him.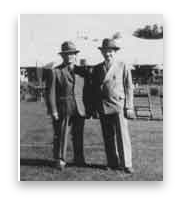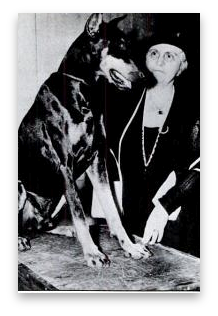 McClure Halley is on the left in this 1935 photo. He was Giralda's superintendent and resident handler. He also searched for new dogs and artwork for Mrs. Dodge. On the right is Ch. Ferry von Rauhfelsen, the Doberman that Halley discovered in a park in Germany. He was the first Doberman to go Best in Show at Westminster.
In its heyday, Giralda was home to up to 150 dogs at a time of 85 different breeds. (The yearly meat bill was $55,000.) During the almost 40 years that the kennel was in existence, Mrs. Dodge finished over 180 champions and owned 200 different Best in Show winners. Her dogs twice topped Westminster. In 1932, her lemon-and-white Pointer Ch. Nancolleth Markable, won Best in Show. He was an English Best in Show winner who had also earned his field championship before coming to America. Markable would score about 30 Bests in Show and Mrs. Dodge also imported his littermate who would win 20 Bests. In 1939, it would be that Doberman, discovered on a walk in the park, who would win Westminster. The dog had barely gotten off the ship when he was entered in the big show. He was entered as "listed," meaning that his AKC registration had not yet been completed and "of Giralda" had been hastily appended to his name. McClure Halley faced quite a challenge as he led the novice show dog into the final ring. The other Group winners were all champions with 65 Bests in Show among them. The Dobe didn't understand a word of English and wasn't familiar with ring procedure. Since Halley spoke no German he was forced to pantomime instructions to coax the dog through the judging. Ferry was the first Doberman to win Westminster. In 1952 and '53, his great grandson would triumph at the Garden, too.

Geraldine Rockefeller Dodge will go down in the history books as the first woman to ever judge at Westminster. And, naturally, she started at the top by judging Best in Show. The 1932 show is historically significant for another reason, too, since it's the first time that Westminster went with a solo judge, abandoning the previous three judge panel. Having a woman judge, especially alone, was a risky move since Westminster was considered a man's domain. Newspapers of the day openly stated that a woman would not be able to command the respect to officiate. Gossips speculated that Dodge had been offered the job to eliminate her dogs from competition. In her debut, she passed up all the conventional choices and gave the nod to a "listed" dog newly arrived from England: the Airedale Terrier, Warland Protector of Shelterock. Mrs. Dodge would prove to be an able and respected judge, accepting assignments in every U.S. state. She also judged at prestigious shows in Canada, England, Ireland and Germany.

On her many trips to England, Mrs. Dodge became well acquainted with the British dog show elite. Lorna, Countess of Howe, was one of this inner circle. She was co-founder of the Labrador Retriever Club and her Banchory Labs dominated in both show rings and field trials. She owned the breed's first dual champion and, during the 1930s, her Labs topped Crufts on three occasions. Mrs. Dodge imported a number of Labs from her kennels. The two women also shared an interest in spaniels, with the Countess opting for English Springers. The Countess had become impressed with an up-and-coming painter, Reuben Ward Binks. She commissioned Binks to do a series of paintings of her dogs. This turned out to be the big break for Binks' career. Soon he had commissions from scores of fanciers. In an interview, he would say that nearly all the prominent dog owners in Great Britain had commissioned him to paint their dogs. His association with the Countess brought him to the attention of many members of the Royal Family, including the King and Queen. He quickly became their favorite dog artist and was repeatedly invited to Sandringham. Naturally, after this, his career soared even higher. He even made several trips to India, including an eight-month stint when he lived in a palace painting the dogs of a Maharajah.
(Click here to read more about Binks)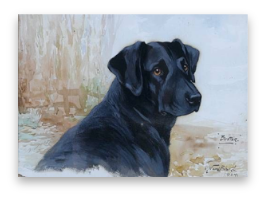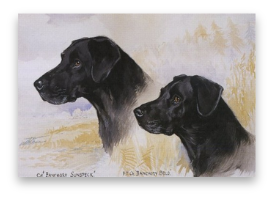 Reuben Ward Binks knew just how to please his clients. Mrs. Dodge wanted paintings that depicted her show dogs as excellent specimens of their breeds. Indeed, some of Binks' drawings are so true that they have almost a photographic quality, though it is softened by his use of watercolors. Binks used a variety of approaches with the paintings he executed. The Giralda dogs are pictured standing in show dog stances, seated and reclining. A number of his works show pairs of dogs and there are wonderful paintings of mothers with litters. There are many headstudies. Some dogs are shown in the kennels, while others have a naturalistic background. There are Pointers in the field, a Labrador chest deep in water focused on a mallard and several canvases showing packs of Beagles, with titles like "Full Cry." Binks occasionally painted in oils, but his preference was opaque and transparent watercolors. Most of his Giralda work was done in gouache on either paper or thin board.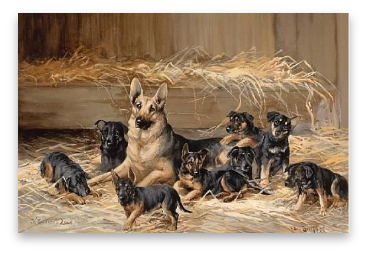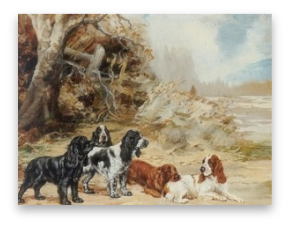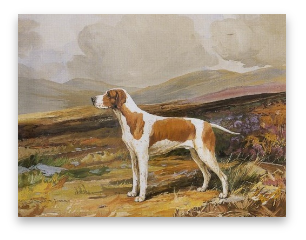 In 1958, Geraldine Rockefeller Dodge announced abruptly that she was canceling Morris and Essex. It was said that she had an argument with the AKC about the scheduling of the show. "While show dogs usually live a good life," her press release said, "there are thousands less fortunate and in desperate need of help…To this unhappy segment of dogdom I now give top priority of my time and strength." This was also the year that the last litter (Pointers) was born at Giralda. In 1939, Mrs. Dodge had established the St. Hubert's Giralda foundation and, now in 1958, they opened their first shelter for homeless dogs. It was truly the end of an era.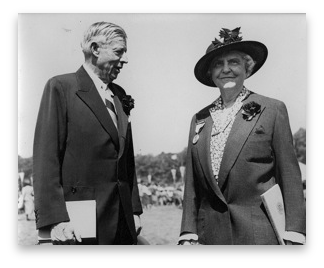 Geraldine Rockefeller Dodge's later years were spent as a recluse.
For years, she and her husband had lived apart—she at Giralda; he at Hartley Farms. He continued to entertain, but she turned away relatives and old friends. Servants recalled what, to me, was one of the most poignant images of those final years. The picture windows of the dining rooms at Hartley Farms and Giralda faced each other across three-quarters of a mile of lawn. In the evenings, the estranged couple would wave to each other before dining.

Marcellus Hartley Dodge, Sr. died at 82, in 1963. Hartley Farms went to a horse-loving cousin, who was married to the Farms' veterinarian. For the next decade, Mrs. Dodge would live alone, save for the servants, in poor health and confined to just a few rooms. But, in Giralda's 35 rooms, throughout the hallways and corridors, in the garages and gardens, was one of America's great private collections.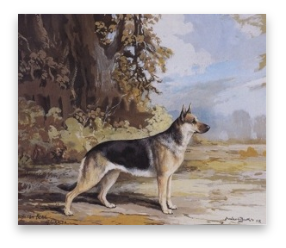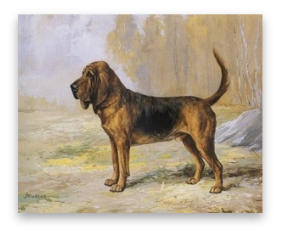 In addition to the many Binks paintings, Mrs. Dodge owned original works featuring dogs by Landseer, George Earl and his daughter, Maude Earl, Arthur Wardle, Muss–Arnolt, Osthaus and many, many others. She had a large collection of doggy prints, too. There were many non-doggy paintings, as well. Dodge was particularly fond of the work of the French painter Rosa Bonheur (1822-1899) and she owned 52 of her canvases.

Mrs. Dodge was wild about bronzes. She had the world's largest private collection of bronzes, numbering several thousand, from Europe, Japan and America. Indeed, during the days when McClure Halley was traveling around the country showing the Dodge dogs or traveling in Europe on dog buying missions, he had another job, too. Following Mrs. Dodge's orders, he scouted art galleries, antique stores and auctions in search of bronzes for her collection. She owned 150 bronzes by the French animalier Bayre.

It was hard to find a pattern in the rest of Dodge's collection. She simply collected anything that caught her fancy. She had a large collection of silver supplemented no doubt by the dog show trophies she won over the years. In those early days, the trophies were sterling rather than silver-plated. She was particularly fond of Jean-Antoine Houdon (1741-1828), known as the "Sculptor of the Englightenment," and owned a large collection of his portrait busts. She collected silver bells, particularly those cast by Paul Revere. She had amassed a large cache of pigeon-blood rubies. She had a strange obsession with hands and had more than 60 bronze casts of hands, including a dozen of Abraham Lincoln, as well as the hands of Robert and Elizabeth Browning in a lover's clasp. There were Oriental rugs, furniture of all kinds, and a collection of pony, donkey and dog carts.

After her husband died, Geraldine Rockefeller Dodge became concerned about what would happen to her collection. Like other people of immense wealth, distant relatives were keeping a close eye on her intentions, particularly since her health was failing. She wrote a succession of wills, but the contents and executor were repeatedly challenged. Elmira College had granted Dodge an honorary degree in 1960 and she first tried to leave the school her complete collection. Relatives battled her to the New Jersey Supreme Court who ruled against her. Next, she tried to build a museum at St. Hubert's Giralda but that, too, was denied. The court ordered that her collection be broken up and sold at auction. In her final will, she was able to establish the Geraldine R. Dodge Foundation.

On August 13, 1973, Geraldine Rockefeller Dodge died at Giralda. She was 91. In October 1975, tents appeared on the lawns of Giralda. The New York firm of Sotheby Parke Bernet, Inc. held the first five of the Dodge auctions on Oct. 7 through Oct. 11. The most valuable items were sold in subsequent auctions at the firm's New York headquarters.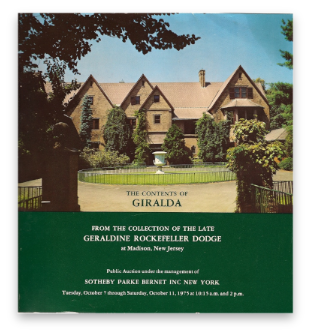 Okay, let's get back to 1991 and my Schipperke painting. It took awhile, but I was able to locate a copy of the Giralda auction catalog, already a collector's item. Ah ha, I thought: I will have my evidence that Noel came directly from Giralda. And then: extreme frustration. Though I had determined that Binks painted about 200 dog portraits for Mrs. Dodge, only 71 paintings appeared in the catalog. The catalog did include a single lot of "Miscellaneous Paintings and Drawings," and there was a notice that items not included in the auctions would be sold at the regular upcoming Sotheby Parke Bernet auctions.

The catalog section introducing the Binks paintings said:
"Reuben Ward Binks, a British-born artist who moved to New York, was commissioned by Mrs. Dodge in 1929 to paint the dogs at Giralda Farms. Mr. Binks was a frequent visitor to Giralda over the next ten years,
painting every dog in the kennel."


That final line that Binks had painted every dog in the kennel, provided me with my next clue. Perhaps, I thought, if Mrs. Dodge had owned a Schipperke, there would be a mention of it somewhere. I scoured Schipperke books and searched 1930s magazines and newspaper articles reporting on dog shows. I finally determined that in 1936, the same year the Binks painting was done, Mrs. Dodge had purchased Canadian Champion Ambassador 'O the North from his breeder Mrs. Ellen Brown, of Canada. In 1936 and '37, the dog would win 22 Bests in Breed, including a Group One, a rare feat for a Schip in those days.

So, I had established that at the time when Binks was in this country painting Mrs. Dodge's dogs, she did indeed own a Schipperke.
Was my Ch. Noel, the call name for American Canadian CH. Ambassador O' the North?
I doubt I'll ever know.

I had always pronounced the Schip's name as Noel, as in the name of the actor Noel Coward. About four years ago, a chance encounter changed all that. Harve met a couple with a magnificent Saint Bernard. Sadly, an accident had blinded the dog in one eye or he probably would have had an outstanding show career. His name was Noel, but it was pronounced No-el, like the Christmas term. When Harve asked his registered name it was Ambassador of the North, preceded by a short kennel prefix. Wow! Harve asked how they had chosen the name Noel. To their way of thinking, they said, they envisioned "the North" as the North Pole and so they figured the dog's name could only be Pere Noel or Santa. Could Mrs. Ellen Brown have thought the same thing?


Well, I've gone and done it. I've placed Noel in the DOGCRAZY COLLECTION eBay store. After extensive research, it appears that this is the only depiction of a Schipperke painted by Binks.



Happy Collecting,

Cathy, Harvey, Matt & Cocoa