Morris and Essex Dog Show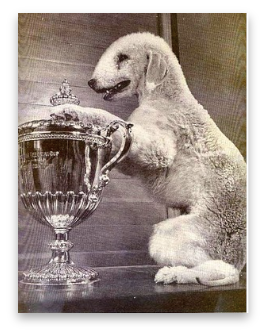 Dog folks will undoubtedly be impressed with the Bedlington shown on the 1948 clip who wins Best in Show. Darn, he still looks good today. This was the two-year-old Ch. Rock Ridge Night Rocket, who goes down in my book as one of the greatest show dogs of all time. Timmie, as he was known, made his show ring debut at the 1947 Morris and Essex where he came from the classes to win Best in Show. During the remainder of 1947 and early 1948 he would be entered in 21 shows. He placed in the group in all but one of those shows, scoring nine Group Ones and seven Bests in Show. He capped the year by winning Best in Show at the 1948 Westminster and then retired. Timmie came out of retirement for the 1948 Morris and Essex, making that his 23rd show, where he again scored Best in Show. This time he was permanently retired. He would go on to sire 36 champions and his name can be found in the pedigrees of almost every dog from American lines.

Timmie was owned by Mr. and Mrs. William A. Rockefeller, but credit for the Bedlington really belongs to the kennel manager and Timmie's handler Anthony Neary. A coal miner, actually born in Bedlington, England, Neary and his wife, Anne, came to this country in 1930. While the first Bedlington was registered in the stud books back in 1883, it wasn't until the Nearys came to the US that the Bedlington really got much attention. The couple dedicated themselves to seeing that Americans learned about the breed. Along with Dr. Charles J. McAnulty, they organized the first meeting of the Bedlington Terrier Club of America, which was held at the 1932 Morris and Essex show.