Newsletter 8
Palling Around with Great Danes
June 14, 2010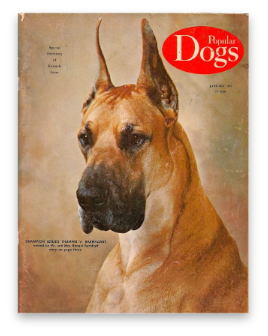 Hi Everyone,


It's that time again when I get to visit with all of you. Before I launch into my latest flight of remembrance, I need to tell you about something we've added to the DOGCRAZY website. Shortly after the website went up, I received a request from Phyllis Wayne to write about caring for old dog books. I thought it was a great idea, but I hesitated. No, I procrastinated like crazy. It wasn't that I couldn't write about caring for books, it was just that over the years I'd made about every mistake you can possibly make with my own books. Then, it struck me that maybe you could learn from all my blunders. So, I've finally gotten off my duff and there's now a page on the website entitled: "Caring for Your Books or The Proper Care and Feeding of a Dog Book Collection." You might want to check it out. And, as a bonus, I've included photos of some books in really deplorable condition so you can look at them and feel better about your own library. Thanks, Phyllis and if the rest of you have any suggestions, don't hesitate to contact me.


Speaking of procrastination: Have you ever decided to pack up some stuff to store away? You take a stack of newspapers for wrapping and soon find yourself reading the articles instead of working. Something akin to that happens to me with the dog books I'm listing on ebay. I flip through the books to make sure that they are clean and unmarked, I spot a photo of a dog I remember and, before I know it, I'm drifting off down memory lane.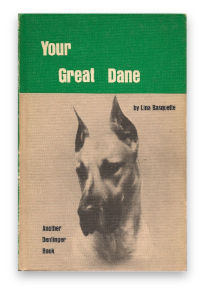 In this case, it was the 1972 book Your Great Dane that triggered my memory. The author of the book was the late Lina Basquette, owner of Honey Hollow Kennels, who bred well over 100 Dane champions and handled a number of Best in Show winners. She wrote a popular column, "Life with Lina" for Kennel Review. When her handling days were over, she became a highly respected judge. There are probably many of you out there who didn't see Lina in her prime and even more who don't know anything about her pre-dog life.


I have a weakness for colorful, quirky people whose exciting lives are contrasts to my boring one. So, I'd like to share some of Lina's story with you. I warn you, it's sensational. We'll start off with the dogs, but then you'll have to be patient as we meander through tales of early Hollywood, prize fighters, gangsters, Adolph Hitler, suicide and rape, before getting back to the dogs. To get in the proper mood, I suggest that you pour a tall glass of iced tea or soda (or, as Lina would have preferred, a stiff drink), make a big bowl of popcorn and then we can begin.


I got my first Weimaraner in the early 1970s. Norm, her breeder, had just married and his new wife, Joni, and I were both eager to learn more about dogs. Joni introduced me to a friend of hers, Gloria Barnhardt, who had a Great Dane that she was showing. This turned out to be the stunning Ch. Leslie's Thumper v. Barnhardt (that's Thumper's picture on the cover of a 1971 Popular Dogs). Thumper took the Great Dane show world by storm. In his very first year of showing, he finished his championship and became the number one Great Dane in the nation. He would go on to win 18 Bests in Show. Not bad for your first show dog.


I don't know what quality to mention first in describing Thumper: his remarkable peachy golden fawn coat, his impressive head with the oh-so-dark eyes, his long regal neck or his body which had that ideal combination of strength and elegance. He was one of the best moving Danes I've ever seen, with tremendous drive and lots of reach.


What made Thumper such a great show dog, though, was his personality. The dog was an absolute ham! He greeted everyone as though they were long lost friends. It was impossible not to be charmed by the big dog. The Popular Dogs, issue says: "Thumper's owners aptly named him, as he has a beguiling way of thumping his front paws to gain attention and there is nothing Thumper loves more than attention in and out of the show rings."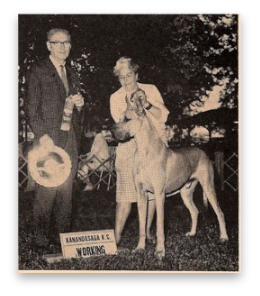 But it was in the show ring, particularly the big Group and Best in Show rings, where Thumper's personality shone most brilliantly. Normally, when I see a great show dog, I can look only at him, blotting out all the humans. This time, I was not able to separate Thumper from his handler. The woman who led Thumper into the ring was a mere 5 feet 3 inches tall. She was obviously older, but I could not determine her age. (I would later be shocked to learn that she was in her 60s.) Her hair was coiled on her head, her eyebrows were penciled in and she sported two-inch long false eyelashes. It looked like she had rings on every finger, numerous pins on her blouse and a heavy necklace. I would later learn that this outrageous woman was Lina Basquette.


In the ring, the small woman and the big dog were partners. From the moment Thumper and Lina walked into the ring...how can I say it? Magic happened. There was something electric about the two of them. I would later learn that, unlike most handlers, Lina showed only one dog at a time. She carefully selected a Dane that she thought had star potential. Thumper was such a dog and Lina showered all her love, energy and attention on him and the dog obviously adored her. Thumper was not always the easiest dog to handle. Sometimes his enthusiasm and exuberance took over, but Lina would whisper a few words and Thumper would settle down. I felt like I was witnessing this fantastic interplay between man (or, in this case, woman) and dog.


Thumper won Best in Show that day and, at the celebration which followed, I had my only encounter with Lina Basquette. Her appearance wasn't the only thing that was outrageous. Lina was outspoken, opinionated, dynamic and bawdy. With her ever-present cigarette dangling from one of her bejeweled hands, she held court. We listened to her hilarious recap of the show, with a little good-natured trash talking thrown in. I realized that Lina was every bit as big a ham as Thumper.


When I think back to how I acted in my first days in dogs (I was 20 at the time), I'm truly embarrassed. I would never dare today to ask some of the questions I did. I remember asking Lina why she wore all the jewelry and makeup. "Kid, when you go in the show ring, you should always dress like you're going to win Best in Show."


After a few vodka and tonics, Lina seemed to take to me. "You're lucky you're starting out in dogs at such a young age," she said. "I didn't start in dogs till I was in my 40s." But, it was what she said next that really intrigued me. "Dogs saved my life. When you are at the end of your rope, some people turn to religion. I turned to dogs," she laughed. "Men almost killed me, but dogs saved me."


"What did you do before you got into dogs?" I asked. I never expected the answer I got. What hadn't Lina done? I'll pass on the story she told me, fleshed out with a little research to fill in the gaps.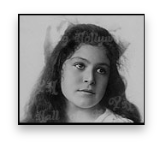 Lina was born in 1907 in California. Her father owned a drugstore and was Catholic. Her Jewish mother was the prototypical pushy stage mom and would come to dominate Lina's early life. When she was seven, a representative from RCA Victor stopped by the drugstore and saw Lina dancing to records. He hired her to help advertise the Victrola at the 1915 San Francisco World's Fair. (Officially known as the Panama-California Exposition, it celebrated the completion of the Panama Canal and the rebuilding of San Francisco, following the 1906 earthquake). Lina was "discovered" and given a six-year contract to make a series of silent shorts, called "Lena Baskette Featurettes." (The spelling of her name would later be changed.) Her dressing room was right across the hall from that of Rudolph Valentino.


While Lina was working at Universal, the great ballerina Anna Pavlova was shooting a movie. Anna took Lina under her wing, predicting a great future as a dancer for the nine year old. While she was at Universal, Lina's beloved father committed suicide. Secretly, Lina blamed her mother. She was not even allowed a period of grief. The very next day she was back on the set. To get her to cry for a scene, her mother had them play her father's favorite song.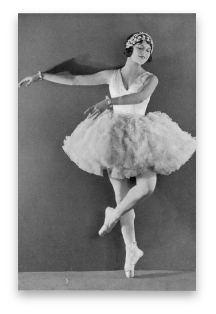 Lina's Mom remarried the choreographer Ernest Belcher. They would have a daughter, Lina's half-sister, who would change her name to Marge Champion and become a famous dancer and choreographer. In 1919, Lina developed a crush on one of Ernest's students, Ramon Navarro, who would go on to become a silent film idol. Her mother disapproved of Ramon, who was rumored to be gay. When Lina's contract in Hollywood was up, in 1923, the family headed to New York. Lina began to dance and, once again, saw Anna Pavlova. Anna began to groom Lina as her successor and Lina was billed, for a time, as "Anna Pavlova, Jr." Lina would have liked nothing better than to pursue a career in ballet, but her mother wouldn't hear of it.


Florenz Ziegfield spotted Lina and, despite her young age (16), hired her for the famed Ziegfield Follies. Soon, she was a featured dancer, billed as "America's Prima Ballerina." She preformed with show business legends like Fannie Brice, Will Rogers and W.C. Fields. Barbara Stanwick, Paulette Goddard and Louise Brooks (who popularized the bob hairstyle) were all Ziegfield girls along with Lina.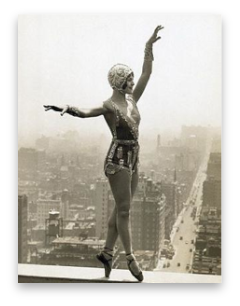 In 1925, Lina was starring in the Ziegfield musical comedy, Louie the Fourteenth, when she caught the eye of Sam Warner, the youngest of the Warner Brothers. He sent an orchid corsage backstage, along with an invitation to dinner. Sam had come East to see a demonstration at the Bell Laboratories of the technology that would become known as Vitaphone, the invention that would inaugurate talking movies. Though he was almost twice her age, Sam set his cap for Lina.


For two months, Sam squired Lina and her chaperone mother all around New York. He knew that to have Lina, he would have to appeal to her mother. One day, her Mom issued an edict: Lina would be marrying Sam. Lina tried arguing: Sam was Jewish and she was Catholic; she was set to star in the next Ziegfield production; Sam was old. None of it mattered. What was important to her mother was that Sam was a motion picture producer and could make Lina a star.


On July 14, 1925 Sam and Lina were married in a rabbi's house. Sam had kissed Lina for the first time the night before and, frankly, it had scared her. She knew nothing of men. A huge reception followed at the Biltmore Hotel. Prohibition was in full swing, so the booze had to be hidden in coffee pots and doled out in cups. The couple danced until two in the morning.


When they retired to Sam's brother's apartment on the 14th floor of the Congress Hotel, Lina panicked. While Sam knocked on the door, she opened the window and seriously considered jumping. Then, she began thinking. Sam was really a nice man and being married to him would get her away from her mother.


Sam took her to Hollywood to meet the family. The Warners were appalled. Lina wasn't Jewish and she was an actress and dancer and everyone knew what those girls were like. To make matters worse, Lina wasn't going to relax and stay at home. She had plans to continue her career. A girl who liked to wear ermine and mink, who sported hats with peacock feathers and was laden with jewelry, just wasn't their idea of a Warner wife.


Despite the rocky start, the marriage was a success. Lina fell for Sam and, by the next year, was pregnant. Sam was working around the clock to make Vitaphone work. The Warners weren't convinced that there was a future in talking pictures, but Sam was sure that this was the way to go. Adolph Zukor, the founder of Paramount Pictures, made Sam a proposal: Bring Vitaphone to Paramount and he would make Sam an executive. (At the time, Paramount was producing major films, while Warners was definitely a second or third tier company.) Lina was ecstatic and helped talk Sam into taking the deal. But, when Sam took the proposal to his parents, he chickened out. He just couldn't hurt the family, he said. The Warners held this against Lina, too.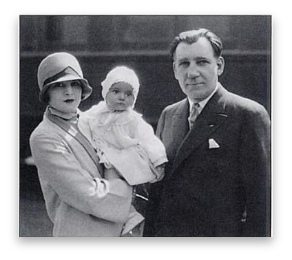 Lina went into labor and Sam drove her to the hospital. On the way, she announced that her baby was going to be Catholic and Sam almost wrecked the car. What would the family say? They argued all the way to the hospital and finally arrived at a deal. If the baby was a girl, she would be raised Catholic; if it was a boy, he would become Jewish. Lina gave birth to a girl, who was named Lita.


The new family returned to Hollywood where Sam began work on the first feature length talking picture, The Jazz Singer, starring Al Jolson. It would signal the end of the silent film era. Sam was under tremendous pressure. He still had the company's short films to do and he was having difficulty with the cast. The Jazz Singer was over budget and the family was getting worried. Sam's health was declining and he was in constant pain. Lina begged him to take a vacation, but he said he just couldn't spare the time.


Lina continued to pursue her dream of becoming an actress. She landed a part with a Rin Tin Tin clone in Ranger of the North. This earned her an offer from Paramount to play a dancer in Serenade, starring Adolphe Menjou. At first Sam was opposed since the Warners considered Paramount a rival, but he gave Lina his blessing.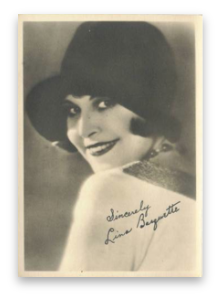 While Lina was filming Serenade, Sam was rushed to the hospital. Lina ran from the set to Sam's bedside everyday. Over the next week or so, Sam underwent four operations and Lina canceled shooting to be at his side. She prayed that he would be okay, but on Oct. 5, 1927, Sam died of a cerebral hemorrhage. It was the night before the premiere of The Jazz Singer. At 20 years old, Lina became a widow and single mother.


I won't go into the peculiars of Sam's will. These days we would say that Lina was robbed. Sam's share of Warner Brothers came to over one million dollars, but that all remained with the Warner family. Lina got a $40,000 life insurance policy, her clothes and jewelry, the car and dividend interest from $100,000. An additional $100,000 was placed in trust for little Lita which she would get when she turned 21. But Lina didn't worry. She'd just signed to do a new picture and would be making $750 a week.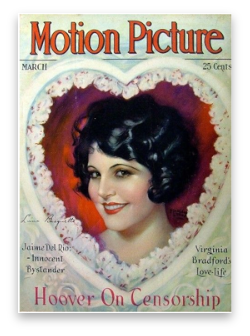 Things were indeed looking bright for Lina's career. In 1928, she was chosen by the Western Association of Motion Picture Advertisers as one of the 13 Baby Stars. This award was given to promising newcomers each year who were thought to be destined for stardom. It resulted in lots of media attention. Clara Bow, Mary Astor, Joan Crawford, Delores Del Rio, Janet Gaynor, Fay Wray and Sally Rand were all past WAMPAS Baby Stars. Suddenly, Lina's picture was gracing the cover of fan magazines.


She starred in the first Frank Capra talkie (well, half talkie), The Younger Generation and then Cecil B. De Mille tapped her for the starring role in The Godless Girl, her most famous movie, which remains a cult classic. The film, which is mostly silent with a few talking scenes thrown in, was ripped from the headlines, as we say nowadays. Only a couple of years earlier, the country had been transfixed by the Scopes monkey trial in Tennessee. Newspapers in California had told tales of brutal goings on in reform schools. DeMille brought the two subjects together for this movie.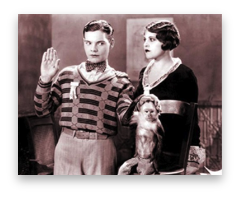 Lina plays a young girl bent on converting her schoolmates to atheism. Those she has won over, pledge their allegiance by placing their hands on the head of a monkey! The young man who is class president and a devout Christian opposes her. When an accident occurs, they are both packed off to a reform school where they are abused by a vicious guard (played by Noah Beery). The film ends with a huge fire that some critics have compared to the burning of Atlanta in Gone With the Wind. When the fire came perilously close, DeMille yelled for Lina to stay in place and she did, even though her eyelashes and eyebrows were burned off. The eyebrows never grew back.



The Godless Girl wasn't a great hit in this country, but it did very well in Europe. One day, Lina received a fan letter. It was from someone named Adolph Hitler who declared that Lina was his favorite movie star.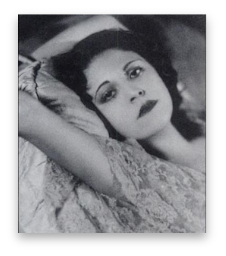 Lina got lots of attention for starring in the DeMille film. She liked to party and began hanging around with Jean Harlow, Clara Bow and Carole Lombard, who were known as "The Bad Girls." Clara Bow held wild parties every Saturday night at her home and it was here that Lina met one of the players on the USC Trojans football team, the future megastar John Wayne. But, the guy who appealed most to Lena was DeMille's prime cameraman, J. Peverell Marley.


The Warner family kept watch over Lina and they didn't like what they saw. Lina had invested all the insurance money in stocks and bonds that proved to be worthless. The interest from the trust fund just barely covered expenses. Party girl Lina wasn't acting like a mother and things just got worse when Lina married Pev Marley. Her new husband declared that he didn't want little Lita around and Lina sent her to live with her parents.


Harry Warner stepped in. He decided to rescue Lita and raise her in the Jewish faith. In his opinion, Lina was a tramp and not fit to raise a Warner. But, how to wrest her from Lina? He went behind her back and made a proposal to Pev Marley. He would pay Lina $100,000 for the child and up Lita's trust fund to $300,000. Lina refused. Marley nagged Lina relentlessly. Lita would be better off with the Warners, he argued, who could give her everything. Lina should think of the child and not be selfish. Finally, worn down, Lina agreed. The Warners spirited Lita away to their new estate in Mount Vernon, New York.


Well, you can just imagine what the newspapers and fan magazines said about that agreement! In their eyes, Lina was a hussy, who had sold her only child for "thirty pieces of silver." Lina countered that she hadn't sold Lita and that the Warners would be sending her back to spend the summer with her. But, Lita didn't come back. That summer, Lina, now divorced from Marley, was so despondent that she drank poison in an attempt to kill herself. She was rescued just in time.


Lina's film career was largely dashed by that episode. She had been blacklisted by the Warners and they now had tremendous influence in Hollywood. The bad press hadn't helped either. The Depression was now in full swing. Lina was consigned to making movies with the smaller independent companies located on Hollywood's Poverty Row. These were mostly westerns and she no longer had starring parts. She quipped to me that often the horse got paid more than she did.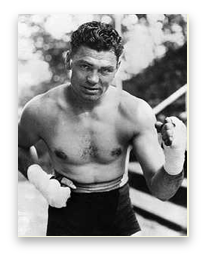 In 1931, Lina married the actor, Ray Hallam, but he died within a few months. She then began a torrid affair with former heavyweight boxing champion Jack Dempsey. Dempsey, who defended his title several times, had made boxing history as the first fighter to generate a million dollar, and later two million dollar, gate. He finally lost the title to Gene Tunney. The rematch between the two, won by Tunney, came to a controversial end in what's been called "The Long Count."


At the time Lina became involved with Dempsey, his fighting career was over and he was giving exhibitions around the country. In June of 1932, Dempsey was sponsoring the "Ride the Champions" rodeo in Reno, Nevada. Lina accompanied him, but took a room under the name Rosita Gonzales so they wouldn't attract attention.


Lina was madly in love with Jack. While he cared about her, he had already been married to one actress and gone through a bitter divorce. He said he wouldn't marry another actress. So, Lina announced that she would be marrying Teddy Hayes, Jack's famed former trainer. But, the very next night, she had second thoughts. She swallowed over 100 tablets of a very potent poison and left a note which said: "Jack, I love you, only you. I couldn't help it. I couldn't go on without you." Hayes discovered her and called for an ambulance. Lina had her stomach pumped just in time.


Naturally, this all hit the papers. Jack told his story: he cared for Lina but didn't want to marry an actress. Hayes countered with charges that Jack stole his girl. Leaving the hospital, Lina told the press: "Just tell the world I'm nuts."


Lina did go on to marry Teddy Hayes and they had a son together. Things, however, did not end well. Lina discovered that Teddy was a bigamist. She made a trip to Mexico and obtained a quickie divorce just to be sure.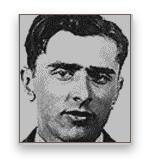 It was about this time that Lina had an affair with Handsome Johnny Roselli, a noted mobster. The Italian immigrant had first settled near Boston but, after murdering someone he fled to Chicago where he joined the mob. In the 1920s, he moved to Los Angeles, probably to oversee the mob's interests there. By the time Lina met him, he was a producer of a number of gangster movies.


Lina was invited to Germany in 1937 where she was to be considered for a starring contract with UFA Studios. (This was the same place where Marlena Dietrich, Peter Lorre and director Fritz Lang had worked before immigrating to America.) She was driven to Berchtesgaden where she met with Hitler, Goebbels and Hess. Lina would later say that Hitler repelled her. He had horrible body odor and was prone to flatulence. Later, the other men left and she found herself alone with Hitler. The leader of the Nazis made a play for her, but she spurned his advances. He didn't stop, but attempted to rape her. She kneed him in the groin, but even this didn't stop him. Finally, she blurted out: "My grandfather was Jewish" and Hitler immediately backed away. She felt lucky to escape with her life.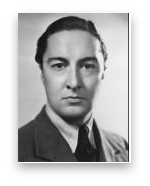 Later that year, Lina married the actor Henry Mollison. The two toured in a number of plays in Australia. In 1943, Lina was back in Hollywood and her name was once again in the papers. One night, after visiting friends, she was driving home when she saw a soldier hitchhiking. She stopped and before she could say anything, the soldier got in the car. He was bound for Los Angeles, he said, but Lina told him she wasn't going that far and asked him to get out. Instead, he grabbed her around the neck and told her to drive. On a remote street, he ordered her to stop. Cautioning her that if she screamed he would kill her, he got her out of the car, beat her up and hit her so hard on the head that she briefly lost consciousness. Then he raped her and took off with the car. The sensational rape trial made all the papers and the soldier was found guilty and sentenced to hard labor for life.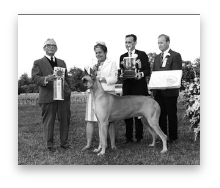 The marriage to Mollison didn't last. In 1948, Lina married Warner Gilmore, the general manager of the St. Moritz Hotel. It was then she acquired her first Great Dane and she finished her first champion in 1950. The couple bought a farm in Bucks County, Pennsylvania and Honey Hollow Kennels was established. It would become the country's largest Dane kennel. In 1959, Lina won the Working Group at Westminster with one of her homebreds. She now had her professional handling license and was fully enjoying her new career.


The marriage to Gilmore didn't last, but Lina's devotion to dogs did. In 1959, she married for the seventh time to Frank Mancuso. That lasted until the day that Frank gave her an ultimatum: the dogs or me. Frank was out, though he and Lina were never divorced. Lina continued to triumph in the show rings. In 1971, and again in 1973, she was chosen All Breed Handler of the Year.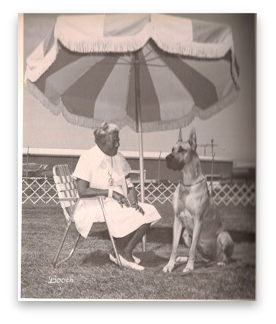 In the mid-1970s, Lina sold Honey Hollow and moved to a posh apartment in Wheeling, West Virginia. She continued handling until she was 79 and then became a judge. She was 87 when she died in 1994 and continued judging till almost the end, officiating for the last time from a wheelchair.


"So, now you know why I said that dogs saved my life," Lina said to me. "I wouldn't swap all the fame in Hollywood for the life I've had in dogs. Nothing has given me such satisfaction."




Happy Collecting,


Cathy, Harvey & Cocoa