Newsletter 9
Celebrating Collections and Boston Terriers
July 3, 2010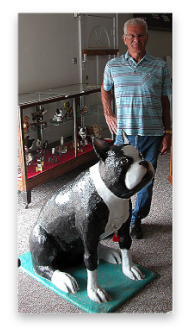 Hi Everyone,


Before I launch into this month's newsletter, one note on the ongoing quest to list the Dogcrazy Collection on eBay. I have just posted almost all of the Weimaraner books. Honestly, I'm amazed that I've made it to the W's. It seemed so overwhelming before I started and now it does seem possible that I'll get everything into the store. I'll be finishing up the breed books next week and then I'll move on to the general, multi-breed, care and training, etc. which are all lumped together on my shelves. So, there will be lots more goodies to come.


Happy 4th of July! I hope each of you is sharing this day with your family. So, what do you think of on this holiday? If you're like me, it's fireworks, Old Glory fluttering in the wind and barbeques. And, what's the first breed of dog that springs to mind when you think American? For me, it's the Boston Terrier. Okay, I know that it's not the only American breed. I raised Alaskan Malamutes, wrote a book on the American Eskimo and you won't find a bigger fan of all the Coonhound breeds than me. And, yes, I know that are other American breeds, too. But for me, the natty little Boston Terrier has always seemed quintessentially American.


On the 4th of July, I feel like celebrating and that's what I'd like to do in this newsletter. I'd like to celebrate collectors and their collections. The first doggy collector I ever met was a woman with Boston Terriers and, recently, one of our newsletter subscribers wrote to me with photos of the most incredible single-breed collection that I've ever seen. I was so intrigued that I wrote to the owner of the collection so that I could share with you his experiences. I'm sure that even if you're not into Bostons, you'll be as impressed as I was.


I was first introduced to the Boston Terrier when I was a child. I grew up in the suburbs. It was a real Ozzie and Harriet, Father Knows Best neighborhood where the World War II generation gathered to raise their brood of kids. The streets and yards in the neighborhood were our domain. We hid behind hedges playing hide and seek, we roared down the streets on our bicycles and the sidewalks were perfect venues for our roller skates (the kind tightened with skate keys). On the lawns, we played Red Rover and Ring Around the Rosie. In the backyards, we built Christmas tree forts and played touch football. We arranged baseball diamonds on the vacant lots so we could play whenever there were enough kids around. The parents in the neighborhood looked on indulgently as we co-opted all the yards for our games.


There was, however, one house in the neighborhood that was an exception. The lawn was always immaculate (no toys or bikes lying around here!), the shrubs pruned precisely, a pebble driveway with no stone out of place, no welcome mat by the front door. High hedges surrounded the backyard and, when you pushed through, there was a fence with the slats placed so closely together that you couldn't even get a peek at what was inside. The gardener, who came by weekly, was the only one that had ever been allowed inside.


Mrs. Snyder, a little wisp of a woman in her 90s, owned the house. She rarely left her home, but she would emerge to yell at us to get off her lawn or not to play in the pebbles on the drive. Occasionally, we would see her Cadillac roll out of the garage and move very slowly down the street. There was no Mr. Snyder and her only visitor seemed to be a son who visited once a week.


Everything about Mrs. Snyder was different and in the 1950s that meant strange. She was a contrast to our mothers who wore ordinary housedresses and, during summer, shorts. Mrs. Snyder was always impeccably dressed in expensive clothes, stockings and low heels and wore pearls and a gold charm bracelet. Her hair was professionally coiffed and her nails were perfect. In our upper middle class neighborhood, everything about her screamed upper class.


She was a mystery to everyone in the neighborhood. Why in the world would she have decided to settle in a place teeming with kids when they obviously annoyed her? Was she hiding from someone? Of course, as kids, our imaginations sometimes went into overdrive and we concocted fantastic stories about the illusive woman. She was a baroness who had absconded with the family fortune and was hiding out in our neighborhood. She was a former jewel thief or part of a bank robbing gang who had retired and was living off the proceeds of her nefarious deeds. She'd raided the personal safe of her husband, some captain of industry, and was now hiding out as his team of private detectives scoured the country looking for her. Ridiculous, of course, but fun.


We knew that Mrs. Snyder had dogs. We could hear them bark every time we ventured onto the lawn or when she came out to yell at us. No one, however, had ever seen them. Occasionally, we'd spot an eye and a nose when they pushed the heavy curtains back from the front windows. The dogs remained as much of a mystery as their owner.


Until one day...I was walking on the sidewalk in front of Mrs. Snyder's house when a small black and white dog came dashing out of the backyard gate. I stood still and the little guy literally jumped into my arms and proceeded to cover my face with kisses. I was scared to death as I made my way up the steps to the front door and rang the bell. I thought Mrs. Snyder's eyes would pop out when she saw me on the step with her dog in my arms.


Hullabaloo...that's about the best word to describe what ensued as Mrs. Snyder herded us into the house, chastised the dog for being a "naughty boy," and ran out to close the backyard fence. I looked around. The room was filled with heavy Victorian style antique furniture and there were paintings on the walls. On one wall was a large portrait of a beautiful young woman with a tennis racket in her hand. She wore a white dress with red piping on the bodice and a little red bow at the high neck and it stretched all the way to the ground. And there, at her side, on a little red leash was a black and white Boston Terrier. It took a moment to realize that it was a portrait of Mrs. Snyder.


When she returned, she seated me in the living room and managed to regain her composure. By this time, there were two Boston Terriers trying to cram themselves onto my lap and another leaping up on my legs. In spite of herself, she began to laugh. It was a lovely laugh. In that moment, I could see the young woman in the tennis dress aged gracefully into this elegant senior. I would never again think of Mrs. Snyder as the harridan who yelled at us or the mysterious outsider in the neighborhood.


"I've always found that dogs are excellent judges of character," she observed. "I am very grateful to you. My dogs are very important to me. In fact, they are all that I have."


She invited me into the kitchen where she poured me a glass of coke and pulled some freshly baked scones from the oven. I had no idea what scones were, but they were delicious. As we ate, we began to talk about dogs. I had lots of questions and she gave me a mini-course in Boston Terrier history. Her father had owned an ice business in Boston in the mid-1800s and he delivered ice around the city. It was at the livery stables that he had first seen what were then called Round Heads and brought one home. Refrigeration ended the ice business and the horses were eventually replaced by trucks, but the dogs, renamed Boston Terriers, remained. She had always owned a Boston. She proudly showed me her bracelet with its many charms. Each charm was uniquely crafted in gold. One showed a Boston sitting, another standing, another was a headstudy and each was surrounded by a circle on which was engraved the dog's name.


"You want to know about Bostons?" she asked. I nodded. "Come with me. This is the dog room." I followed her into one of the bedrooms and stood amazed. The entire room was decorated in black and white, save for three red needle pointed pillows emblazoned with Boston profiles and the names of each of her dogs. Bookcases lined the walls and they were filled to overflowing with statues of Bostons. There was a hand-hooked Boston rug on the floor and the one wall without bookcases was covered with paintings, drawings and advertisements depicting the breed. On a small dresser stood a huge trophy surrounded by show photos of a young Mrs. Snyder with her dogs. There were books on a small table and scrapbooks filled with clippings of articles and photos of the breed.


I learned many things that day: 1. That Boston Terriers are delightful dogs. 2. That collectors love to tell people about their collections. 3. That people who are passionate about what they collect are invariably interesting, and 4. That Mrs. Snyder was not a baroness, or a jewel thief or a woman on the lam. She was instead a widow who had moved to Miami to avoid Boston's harsh winters and to be closer to her son.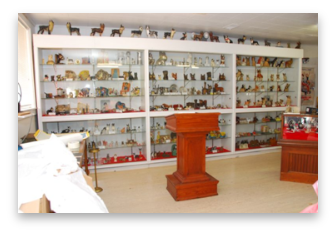 And, this provides the perfect segue for me to talk about another Boston Terrier collector. Peg Chaisson, one of our newsletter subscribers, wrote to me to say that she had purchased a book for a friend who had a Boston Terrier museum. Is there anything more intriguing you can possibly say to a dyed-in-the-wool collector? How many of you have fantasized about having your own museum where you can display all your treasures? Think of it: no more things in boxes and file cabinets; no longer having to worry whether the item you are considering purchasing is a duplication because you honestly can't remember everything you've got; no wasting hours searching for something that you want to share with a friend, but can't locate. Sound familiar? I immediately wrote Peg and asked for details. She sent photos and I had to know more.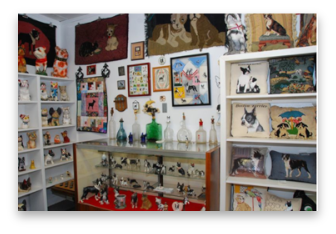 The owner of the Boston Terrier Dog Museum is Bob Hambright, of Floydada, Texas. Bob and his late wife, Frances, got their first Boston Terrier in 1971. They named him AJ (the combined initials for their two children, Alissa and Jim Bob). "He was a great family pet and a great playmate for the kids," Bob says. "Anytime the kids got in trouble, AJ would feel it was his fault and go hide out under the bed for his time out. He loved to chase planes and play outside. The kids even took him to a local fair and showed him in the dog show. He was the first of the five Bostons we have had."


In 1991, Frances gave Bob a Sandstone Boston for his birthday. Frances collected glassware and on their trips to flea markets, antique shops, auctions and estate sales, they began to buy Boston items for Bob's collection. It wasn't long before family and friends were pitching in with their own contributions. "It became quite an addiction," Bob says.

In the beginning, the collection occupied two display cases in the Hambright home. Next, Bob made space for a couple of additional display cases out back in his wood shop where he liked to do woodcrafts. Soon, the woodworking equipment had moved out and the shop was filled to the brim with the collection.


I suppose most people would have stopped at that point. But, Bob had discovered the internet and eBay. He didn't know much about computers, but his kids convinced him to buy one and introduced him to online collecting. "It is amazing the accessibility and variety of Bostons that I have been able to locate and purchase on the internet," Bob says. "The computer has allowed me to network with other collectors and friends." No longer was Bob confined to purchases he could make near his Texas home...Bob could shop the world!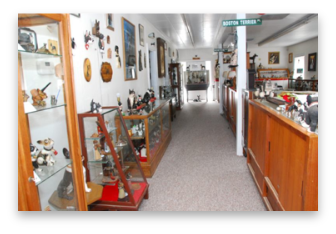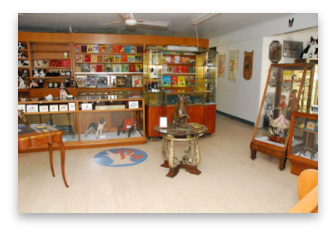 "My collection had grown so large that I couldn't contain it in the house and shop any more," Bob writes. "In May 2007, I decided to put in the Boston Terrier Museum. I had no idea how to even start this project. First, I talked with my two children and got their support. I wanted their OK so they wouldn't send me to the funny farm with this far-fetched idea."


Bob looked at the downtown buildings in Floydada, but didn't find anything he liked. On a nearby highway, however, he found a 38 x 78 building that had been a hospital until it closed in 1960. It then became a pharmacy and, later, a movie rental store, but for the past six years, it had been vacant. Bob took the plunge and bought the building.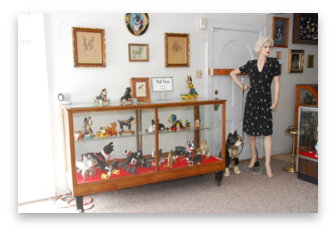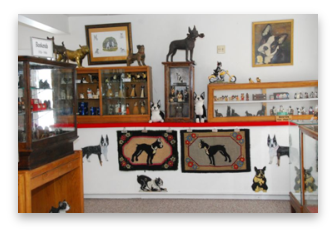 "I bought it and started to remodel it. I patched walls, painted it and put carpet down. Then, I started moving the collection down which was the fun part. I would never have dreamed that I could fill up the multiple rooms with my collection, but it is now wall-to-wall dogs. It is amazing that the building that I thought was too big is now maybe too small."


Sadly, Bob's wife didn't live to see the Museum. "My wife never knew about my vision of the museum." Bob thinks she would be "quite amazed" and impressed by the number of items that have been added to the collection.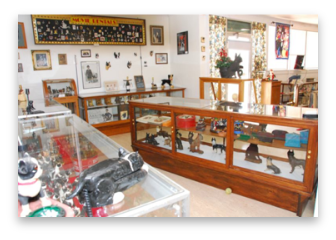 What does Bob have in his collection? Anything and everything Bostons. "The items range from tiny to life-size, from refined to amusing, from antique to contemporary and from rare to common." There are over 3,000 items in all. There are statues, of course, in both porcelain and bronze. You will find pipes, pipe holders and ashtrays, shot glasses and cork screws, inkwells, toys and banks, clocks (the dog's eyes follow the minutes), advertising signs, hooked rugs, paperweights, canes, buggy blankets, a carousel (with Bostons instead of horses), over 50 salt and pepper shakers, over 100 doorstops, a 1903 Boston trophy and much, much more.
One of the most popular items in the Museum has been dubbed The Big Dog. (That's it at the top of the column.) People love to have their photos taken with The Big Dog and kids love to climb on him. Standing more than three and a half feet tall and tipping the scales at over 50 pounds, The Big Dog is actually a fiberglass bank. Bob found it on eBay, but the buyers wouldn't ship so this intrepid collector got in his car and drove to Clarksville, Tennessee. "I looked at the dimensions and thought that I could fit him in my car," Bob recalls. "To my surprise when I actually tried to load it, there was no way it would fit no matter how I turned it. I finally resolved to put it in my trunk with him sticking out about three feet. It was an interesting trip home. You should have seen the looks I received as I traveled back to Texas. It was quite a sight to see a huge Boston's head sticking out of my trunk."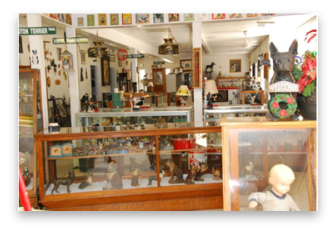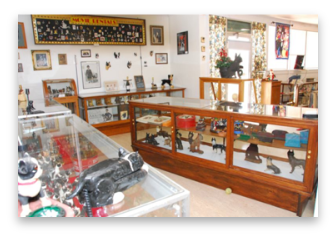 There are several pieces in the museum that are very special to Bob. One of them comes from the late Dr. Paul Hiller, who co-authored the book Boston Terrier Collectibles. Hiller was always generous in sharing his knowledge and gave advice to Bob about his collection. The two became close friends. "There was no one that loved Bostons more than he did." Bob thinks of Hiller every time he looks at a silver candy container made in Austria. Paul bought it in Uruguay and, when he died, his wife Joan donated it to the museum.

So, if you are ever in Texas, you might want to check out Bob's incredible collection. (Note: Floydada is about an hour's drive from Lubbock.) The Boston Terrier Museum is located at 206 West Houston, Floydada, TX 79235 and is open to the public. While the hours are flexible, it's best if you give Bob a call at 806-983-5010 to arrange a visit or email him at:

bobhambright@sbcglobal.com

If you go, you'll meet not only Bob, but also his current Boston Terrier, Spike, who loves to show people around the Museum. "He's very friendly," Bob says, "and never meets a stranger." In fact, Spike has his own fan club and sends out yearly Christmas cards to his four-legged friends.


Happy Collecting,


Cathy, Harvey & Cocoa


P.S. Special thanks to Peg Chaisson for telling me about the Boston Terrier Museum and for sharing the great photos. Thanks also to Bob Hambright and his daughter, Alissa Carter, for providing me with so much information. A special thanks to
The Floyd County Hesperian-Beacon
for allowing me to use the photo of Bob with "The Big Dog" at the top of the column.