Newsletter 13
Christmas + Dogs = Chaos
Dec. 23, 2010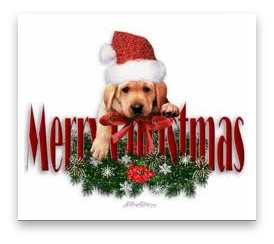 Hi Everyone,


A very Merry Christmas to all and a belated Happy Hannukah. It's Christmas time here at the old homestead. My thanks to all of you who have ordered books and other items and I hope they all reach you in time to go under the tree.

We're having a rather quiet Christmas this year. If you promise not to tell, I'll let you in on one of my secrets. For years, I had this fantasy about the perfect Christmas. I knew just what it would be like. I envisioned one of those great old Victorian settings. The scene: my library. A comfy chair before a fireplace with gently crackling hickory logs. My cherished old Landseer print,
A Distinguished Friend of the Humane Society,
in its antique gilded frame hangs above the mantle. Bookshelves line the walls, heavy with their load of wonderful old dog books, held in place by doggy bookends, and broken up occasionally by canines in bronze. Here and there, the light from the fire reflects and gleams off silver trophies. In the corner is a glass fronted china hutch that I've repurposed to hold ceramic and porcelain dog figurines. In another corner is an old wooden bucket filled with canes topped with dog heads and handcarved wooden shilealaghs. In the center of the room, sits my antique round library table capped by a four-foot Christmas tree studded with tiny dog ornaments. At its base is a chorus of old and newer miniature dog figurines. Gingerbread cookies, baked into dog and bone shapes hang from the tree and scent the air. And, there I sit, a book in my lap, my feet on a worn leather ottoman and a glass of port in my hand. Beside the chair, my loyal dog peacefully sleeps.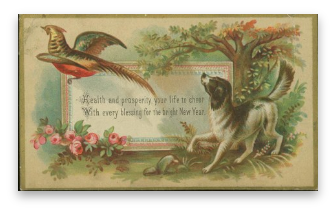 Well, this year, I've finally come close to getting my fantasy. Tranquility reigns in our old brick house. My son is an adult so there isn't the frantic search for the hot toy of the year and there are no more late night present wrapping sessions. Our Collie, Cocoa, is so inherently well mannered that I don't have to worry about her tampering with decorations, chewing up Christmas stockings or trying to swipe cookies. And, you know what: it all seems terribly dull. Peaceful, yes. Exciting and joyful: not so much.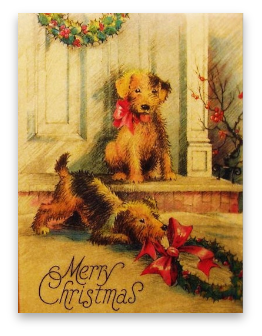 I can't believe it, but I'm looking back fondly on Christmases past when we were a multi-dog family. What a contrast with the present day! If I had to pick one word to describe those Christmases of past years it would be MAYHAM. Yes, the same kind of mayhem depicted in those All-State commercials. Christmas in the Flamholtz home in those days, with our assortment of sporting dogs and hounds with a toy dog or two thrown in, was akin to presiding over a herd of four year olds in a Christmas frenzy.

The first year we owned dogs, I thought it would be great to continue our tradition of having a tree trimming party. Hah! What a disaster. We use to arrange these long strings from person to person, passing along cranberries alternated with popcorn. The popcorn proved to be a hit with the dogs and few kernels made it to the end of the strand. On the coffee and end tables, I'd set up plates of munchies: cookies, spiced nuts, canapes. Another fatal mistake. Ginger (sometimes referred to as The Beagle from Hell) deftly knocked a plate to the floor and, like sharks to chum, our canine pack descended, chomping up every last cookie before we could reclaim them. The cheese canapes were a big success, particularly with our Weimaraner, Klunker (aka The Silver Sneak). I'm still not sure how she managed to swipe cheese and crackers without anyone noticing, but the little cracker crumbs around her mouth were a dead giveaway. And, I'd even splurged for foie gras. Who knew my dogs would be such gourmets?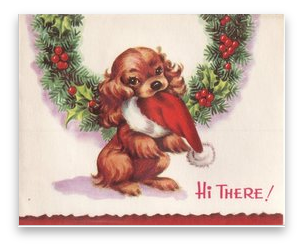 Do you remember those old Topper movies with the booze loving Saint Bernard, Neil? That ghost dog had a preference for martinis. It was at the tree trimming party that I found I had my very own booze hound. I discovered this when I watched horrified as Ginger daintily placed her little feet on a coffee table and dipped her tongue into a guest's eggnog. While I was struggling with what to do, I watched her silently graze from one glass to another. What should I do? Do I stand up and announce to my guests that they shouldn't sip their drinks. That all night they had, in fact, been sharing their drinks with a dog? I don't think I really did the right thing, but I wimped out and remained silent. I swear, by the end of the night I had a smiling, staggering Beagle who lolled on the middle of the carpet demanding to have her belly rubbed.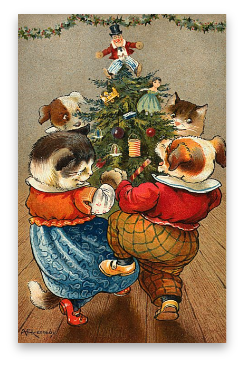 Naturally, one of the highlights of any Christmas is the tree. I love Christmas trees. Some years, I have different themed trees in every room. Over the years, the dogs have affected my tree trimming style. That first doggy year, I included candy canes on the tree. I thought it would be okay since I left them in their cellophane packages and didn't place them on the lowest branches. Ha! Did you know that a single dog, in this case a Weimaraner, can topple an entire tree by tugging on a candy cane? Yep. We came home from a concert one night, yawning and fighting to keep our eyes open, to find a six-foot tall Douglas fir splayed out on the living room floor. There were tiny ornament shards twinkling among the trip wire maze of interlaced tree lights. Jackie, our Pug, had made a nest for herself in the tree top and was snoring away. It took hours to clean up the mess and get the tree upright. It had a bedraggled look. For days afterward, all the dog's stools were laced with tinsel.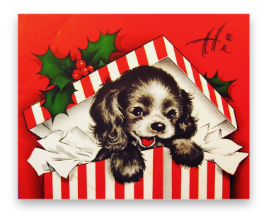 And, then there are the presents! My dogs love presents. Any of you who are parents, know the absolute glee with which small children tear through wrapping paper to get at their Christmas treasures. They have nothing on my dogs who can rip and shred paper with the best of them. Whereas children just quickly discard bows, my dogs always took the time to appreciate them. They loved to unravel them and play tug of war. Strips of ribbon joined the tinsel in their daily stools.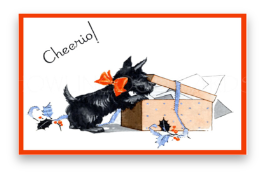 I love to cook and I love food as anyone who has seen me can guess. My friends used to send me foodie presents. Boy, did my dogs love them. Chocolate chip cookies were always great hits as were those wonderful arrays of 100 kinds of cookies in little foil cups. My gang gave the doggie seal of approval to Whitman Samplers. They performed taste tests on chocolate coated cherries, probably giving them a C, or at least that's my guess since they consumed the chocolate and spit out the cherries which were then stomped into the carpet. You could follow the red smear from room to room. And, speaking of smears, I'm reminded of the holiday when an Aunt sent her prize-winning fudge sauce. The dogs somehow popped the lid open and had a great time, leaving little chocolate pawprints throughout the house. Of all the dessert presents I've received over the years, none has been greeted with greater enthusiasm than the cheesecake. Ah, the authentic New York cheesecake from our favorite deli in the Bronx. My in-laws took the subway to get it and carefully wrapped it, placing it in a heavy cardboard box for shipment. It had a "Open Me First" tag which my dogs promptly obeyed. You haven't lived until you try to clean mashed cheesecake from a carpet.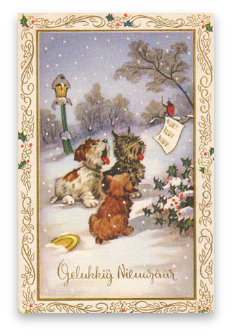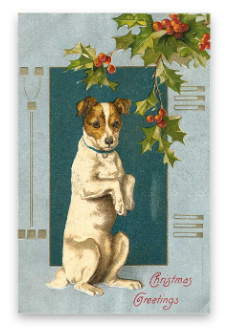 But, it wasn't only desserts that thrilled my dogs. They simply adored those baskets filled with gourmet cheeses and logs of smoked sausage. The cheese was consumed in place, but the sausages were often dragged under coffee tables and chairs to be consumed at their leisure. And they certainly extend their doggy thanks to the people who manufacture those great big tins filled with caramel corn. Did you know that if you roll one of those tins around, banging it into chairs, tables, walls and the Christmas tree, pretty soon that top will just spring open? My dogs are foreever grateful to the relative who went to Alaska on a cruise. She signed me up for a special Christmas gift package filled with moose meat, caribou sausage, venison pemmican and something which contained whale. Though I wrote a nice thank you note, I never really got to sample any of it. Less appreciated were those baskets filled with bags of coffee, tea and cocoa, though they were good for spreading about the house.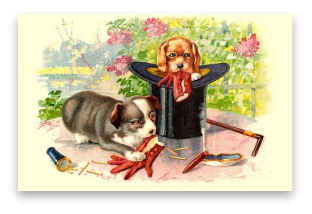 Okay, tell friends to cut out the food presents and things will run smoothly, you say? Forget it. Ginger single-handledly shredded a jacket which, after all, was made of rabbit fur. Few of those fluffy type slippers have ever survived. And, though most of my dogs have hated baths, they simply adored baskets filled with lavendar soap. One of our friends went on a trip to China. She sent us a Christmas present she had purchased there. In a gorgeous lacquered wood box, there were incense burners fashioned like fu dogs and an amazing assortment of incense sticks...jasmine, sandlewood, frankincense, etc....which the dogs seemed to like as much a rawhide chews.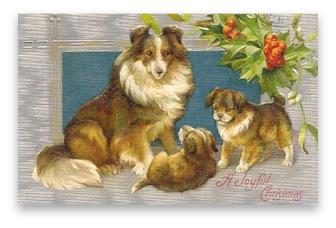 Then, there was the holiday kitchen, abuzz with activities and smells to delight. Klunker could reach the countertops by standing on her hind legs and Ginger could make them in a single bound from a standing start. After eating her fill, she would nose plates over the edge to waiting dogs. One Christmas, we were forced to present a big turkey, minus one drumstick. We counted ourselves lucky.

Yes, in the kitchen, our dogs were four-legged terrorists. The handles on all lower cabinets had to be secured with chains. Do you remember those times on the old Magnum TV series? Tom Selleck would try to sneak into the compound which was guarded by Zeus and Appolo, the resident Dobermans. Don't look at the dogs; work the lock, he would repeat. It was a little like that trying to get into our refrigerator at Christmas time. Focus was required. Before cracking the door, you had to know exactly what you needed to extract. Taking a deep breath, you'd open the door...the clock would start ticking down like on some game show. You had about 30 seconds before some dog would stick their nose into the frig and filch something.

Suddenly, this year's Christmas is beginning to sound just right. Peace, quiet and traquility do have their charms. And, though it may be less exciting, having a dog as good as Cocoa has brought back many of our youthful traditions. We can hang Christmas stockings (even one for Cocoa) knowing that the toes won't be chewed off. There are food gifts under the tree again and though the counter is piled high with plates of cookies, I know they will still be there when I return.


And so, for this Christmas, the whole gang at
DOGCRAZY BOOKS
would like to thank you for making this a great year and we'd like to send you this message: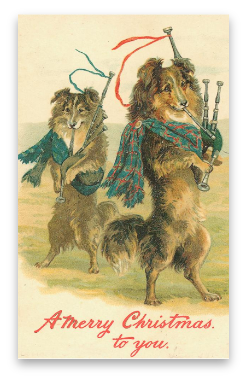 Cathy,

Harvey,

Matt

&

Cocoa

P.S. I hope you've enjoyed the old vintage Christmas cards. In one of those internet follow the links
ad infinitum
tours that I often go on, I landed on the White House Flicker site and saw these photos of the Obama's Portuguese Water Dog, Bo. I thought you might enjoy these Christmas images. In the first one, Bo poses before a figure of him that's been crafted out of about 4,000 pipe cleaners. The Bo cookies are proving to be big hits this year.