Additional Items from the Samuel W. Seidman Collection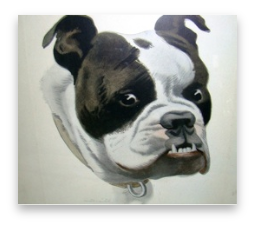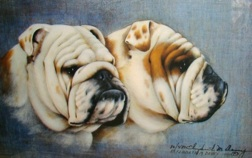 On the left: an 1895 lithograph with the name "Brill" written under the image
On the right: a 1990 print by Elizabeth M. Davey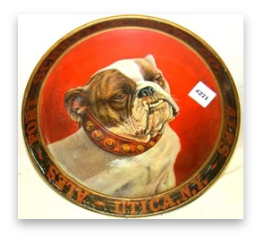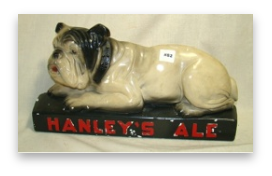 On the left: A 1900-1920 tin tray from the Fort Schuyler Brewing Co., in Utica, NY
On the right: An advertising piece for Hanley's Ale, c. 1920-40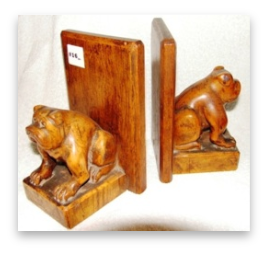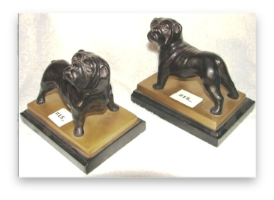 On the left: Hand carved hardwood bookends, c. 1880-1900
On the right: Brass bookends, with bronze patina, standing on a bronze base, c. 1930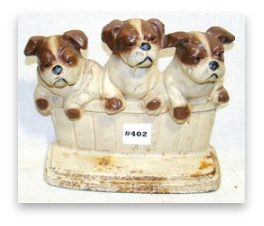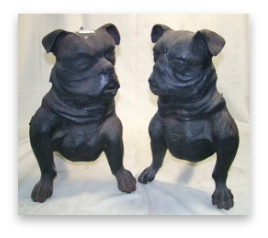 On the left: A cast iron doorstop in the shape of a basket of Bulldog puppies. Modern.
On the right: A pair of cast iron andirons (log holders), c. 1880-1890.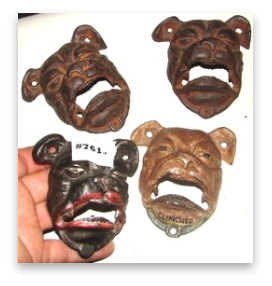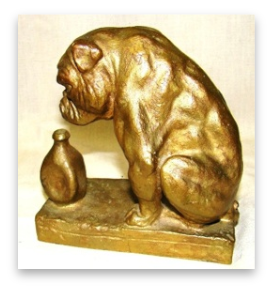 On the left: Bulldog heads on cast iron bottle openers, Wilton Company, CT
On the right: A bronze Bulldog, with a gold patina, sniffs a Scotch bottle. c. 1910-1930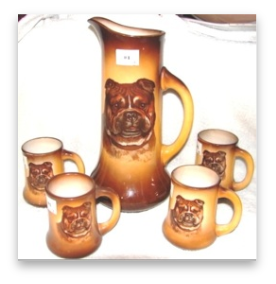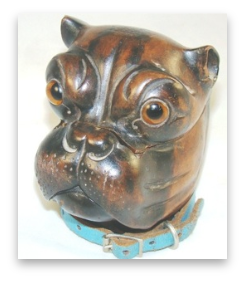 On the left: A 5 piece china set with brown glaze featuring Bulldog heads, c. 1900
On the right: A carved wood Bulldog inkwell with glass eyes and painted details. The top is hinged and the interior is lined with brass.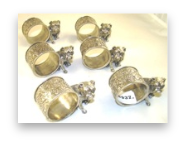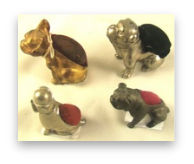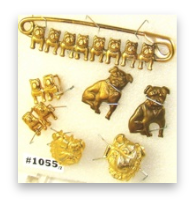 On the left: A set of 6 Victorian silver plate napkin rings with seated Bulldogs
In the center: one of the lots of Bulldog jewelry
On the right: 4 seated Bulldog pin cushions, c. 1890-1920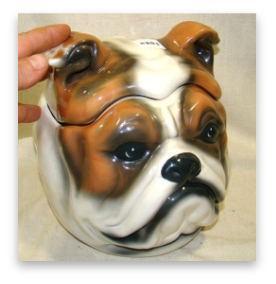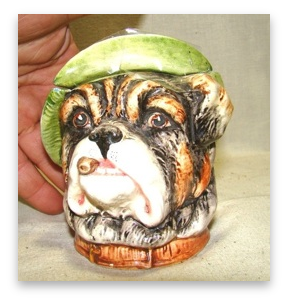 On the left: A modern Bulldog cookie jar
On the right: a majolica humidor, "Bulldog with Cigar in Green Hat," c. 1890-1920