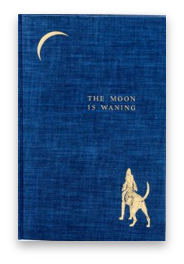 Megargee kept up his work as a book illustrator during the 1930s, too. In 1931, he provided the artwork for the Natalie Lewis book,
Your Dog,
as well as the Reginald Cleveland book,
Guard, Son of Cop.
He did horse illustrations for Singerly McCartney's
Short Cut to Good Riding.
In 1936, he worked on the 3rd edition of William Bruette's
Modern Breaking, A Book About Bird Dogs.
This volume was first published in 1906 and Edmund Osthaus was the original illustrator. In 1938 and 1939 he illustrated two Derrydale Press books:
Martha Doyle and Other Sporting Memories
and
The Moon is Waning.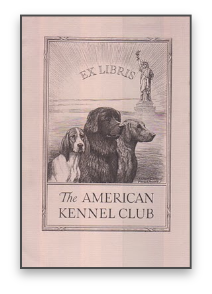 In 1932, his father-in-law, Charles T. Inglee, was elected the eighth President of the American Kennel Club and, the following year, Megargee once again served as a Director. In 1934, he was appointed co-chair of the AKC's Library committee and two years later he designed the official AKC bookplate. This lovely bookplate is still used today.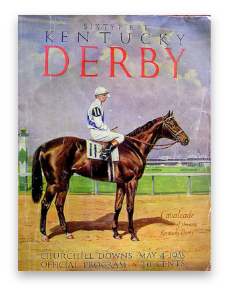 Many of Edwin Megargee's finest paintings were done in the 1930s. He would earn glory, though, for one of his non-doggy paintings. F. Wallis Armstrong was the head of the Armstrong Advertising Company and had created such classics as the Campbell Soup Kids and the RCA Victor logo with the Fox Terrier,
His Master's Voice.
He was a huge horse racing fan and, in 1934, his Cavalcade won the Kentucky Derby. He commissioned Megargee to paint his Derby winner. The following year, Megargee's painting would be featured on the cover of the official Kentucky Derby program.

Megargee had become the painter of choice for many of dogdom's famous kennels. Mrs. Sherman Hoyt was enjoying extraordinary success in the show rings with her Blakeen Poodles. Her white Standard male, International Champion Nunsoe Duc de la Terrace of Blakeen became the first Poodle to go Best in Show at Westminster, in 1935. The following year, two of Duc's kids would become the first Poodles to win Best Brace at Westminster. Mrs. Hoyt commissioned Megargee to paint several of her dogs, including Duc.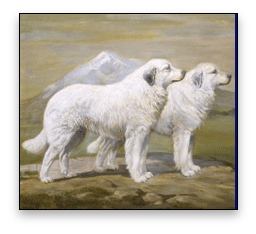 Frances and Mary Crane began importing Great Pyrenees in the 1930s. The breed had yet to be recognized when the Cranes purchased their first dogs in France, and they set their sights on having the breed recognized as quickly as possible. Mary Crane began one of the most tireless and successful campaigns ever waged to launch a breed. Photos of her dogs and articles on the breed's history and her journey to top European kennels filled magazines. She advertised everywhere, printing up advertising cards that she mailed out and passed out at shows. She wrote the first book on the breed and showed her Pyrs in Miscellaneous classes. And, she hired Megargee to do several paintings of her imports, including one of her foundation dog, Urdos de Soum. The AKC recognized the breed in 1933 and in 1934 Urdos became the breed's first champion. Later, Mrs. Crane would donate her Megargee paintings to the AKC.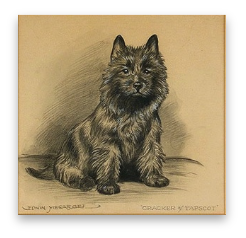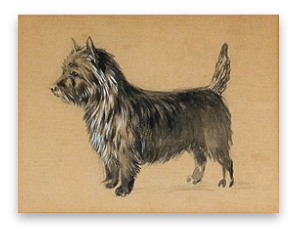 Another "kennel" soaring to prominence in the 1930s was Mrs. Lindsley Tappin and her Tapscot Cairn Terriers. I put kennel in quotes because actually Mrs. Tappin's kennel consisted of a large luxurious apartment on Park Avenue. What had formerly been guest bedrooms now housed an assortment of Cairn Terriers. Three times each day, New Yorkers were treated to the sight of top-winning Cairns parading on Manhattan's most expensive sidewalks. When he was commissioned to paint the Tapscot Cairns, Megargee decided to portray them using watercolors.
(My thanks to the William Secord Gallery for allowing me to show these watercolors. See the P.S. at the end of this newsletter for the link to their website.)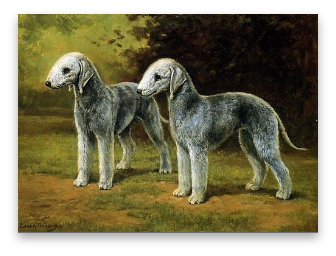 In the mid-1930s, Megargee painted the Rowanoak Bedlingtons, owned by Col. P.V.G. Mitchell and his daughter Constance "Connie" Willemsen. They were the breeders of what is still the only Bedlington to have won Best in Show at Westminster. It was through Col. Mitchell that Megargee landed one of his most interesting commissions.

For years, the Europeans had dominated the Atlantic passenger ship lines. In the 1930s, the United States Lines set out to change all that, dedicating more than 21 million dollars to building a pair of superliners that would excel in speed, safety and luxury. Every amenity imaginable was available from marble tiled swimming pools to air-conditioning (the first time it was offered on a ship). There was a fully staffed kennel with 24 large compartments.

Megargee was commissioned to do a painting for the door of each kennel. He and Col. Mitchell decided that these should be headstudies of breeds and they would be actual portraits of top winning champions. In the end, Megargee painted two copies of each painting. One was given to the dog's owner and the other was used on the liner, which would be named the S.S. America. "It is surprising that more of these portraits have not surfaced," writes William Secord, author of
Dog Painting 1840-1940
and other books on doggy art and owner of the famed William Secord Gallery, "but the American Kennel Club is fortunate in having a complete photographic set of them, reproducing each canine likeness." The ship launched in 1940, christened by First Lady Eleanor Roosevelt. A year later it became notorious when it was discovered that two of the crew were Nazi spies who were part of larger espionage ring.

For their commissions, most artists work from photographs. Some insist on actually meeting the dog they will portray and taking their own photos. Then they retire to their paint-speckled studios and, hopefully, produce something marvelous. That's not the way Megargee operated. Megargee arrived at the owner's home in his three-piece suit with his sketchpad. He never took photos, preferring to work with the live dog. He had a remarkable way with dogs and an ability to quickly calm them. No doubt, his sense of humor came in handy, too. "All animals have a sort of sixth sense in selecting people in whom to place their confidence," P.C. Long wrote in a
New York Herald Tribune
article about Megargee. "I have never known a horse or dog that would not obey his slightest command. I have never known one that would not give him complete and perfect devotion. After all, this may be the best measure of his character, both as a man and as an artist."

Megargee's approach also fully involved the owner in the creation and helped fuel the artist's growing fame. The owners of the dogs Megargee painted were wealthy and they expected people cater to them. Their dogs were their pride and joy. Since these were top show dogs, they were used to standing quietly while in a show pose for an extended period of time. Often, Megargee painted while the owner watched. It was thrilling to watch this master artist at work and to see their dog come to life on canvas.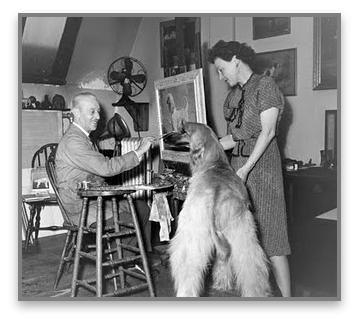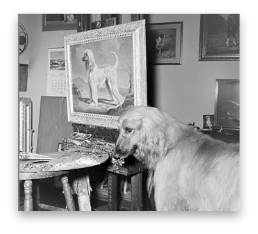 In the 1940s, Megargee's fame exploded and suddenly there were opportunities everywhere.
Life
magazine did a full feature on him as he painted the Afghan Hound, Ch. Rudiki of Pride's Hill, the latest Best in Show winner at Mrs. Sherman Hoyt's Blakeen Kennels. (Rudiki would later be sold to Marion Florsheim.) You can see Megargee's working style here as he has Mrs. Hoyt pose Rudiki. It was this painting of Rudiki that would be included as a special supplement in the Dec. 1940 issue of the AKC
Gazette.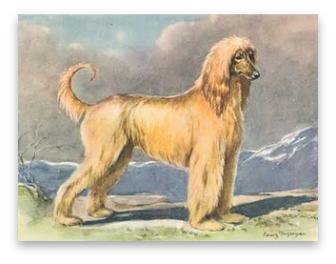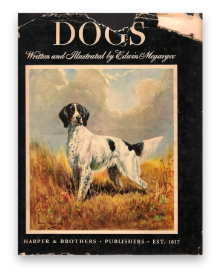 Suddenly, publishers were clamoring for Megargee's work. In 1942, his first book under his own name was published. Titled simply
Dogs,
the book is an amazing tribute to Megargee's skill. It includes both color and black and white drawings.
(I have included a few drawings from this book below.)
He employed a similar approach for his book
Horses,
published in 1946. In 1949, he would once again be commissioned to paint that year's Kentucky Derby winner.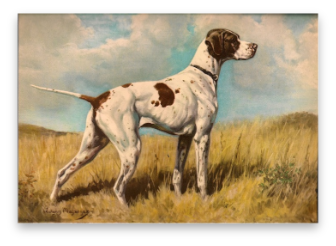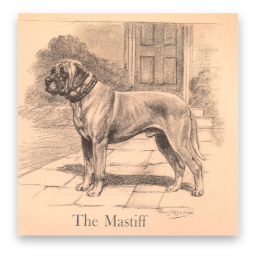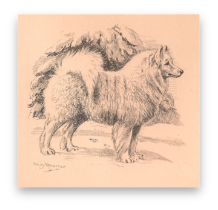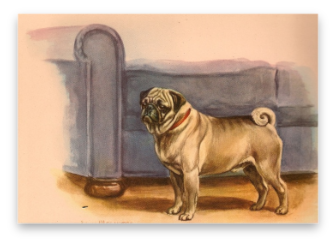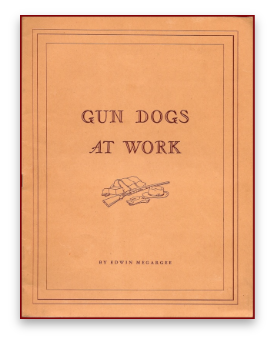 During the 1930s, Megargee had counted himself lucky when he was able to sell his paintings of sporting dogs to hunting magazines. In the 1940s, his work graced covers. In 1945, Field and Stream commissioned him to paint several sporting breeds which were released as
The Field and Stream Portfolio of Gun Dogs at Work.
They included six prints of the English Springer Spaniel, the Cocker Spaniel, the Pointer, the English Setter, the Chesapeake Bay Retriever and the Labrador Retriever. Accompanying the prints was a large booklet which included a profile of Megargee and write-ups of the breeds by Freeman Lloyd, the oldest American dog writer who was often referred to as the "Dean of American Dogdom." The portfolios sold out quickly and the prints remain cherished collectibles.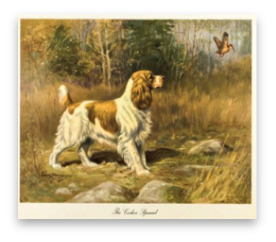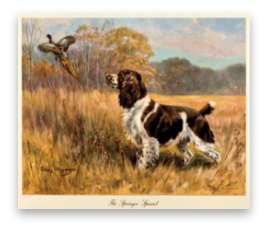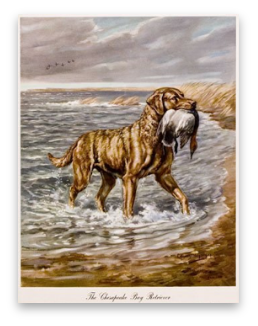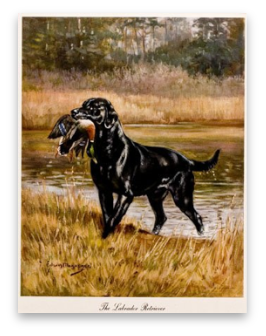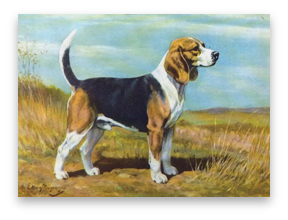 Megargee was delighted with how well the
Field and Stream
prints sold, but the magazine was only interested in a few of his sporting paintings. He selected the best of his other paintings and had them made into prints.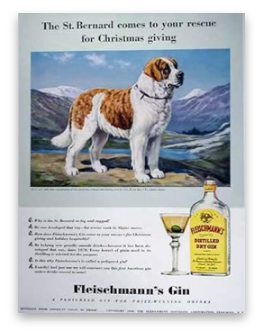 Megargee also entered into agreements with businesses to use his work for commercial purposes. Most notable of these was the Fleishman's Gin advertising campaign which included the tag line: "A Pedigreed Gin for Prize-Winning Drinks." These ads ran in many magazines, giving even more exposure to Megargee's work.