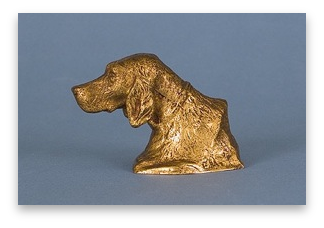 Megargee was able to push himself as an artist, too. The famed Tiffany Studios offered him an opportunity to try his hand at sculpting. He did a small, exquisite paperweight for them in the shape of an English Setter head.
Shando
is done in bronze with a gold patina. One occasionally spots this little treasure in auctions.
(My thanks to the William Secord Gallery for allowing me to use their photo. See the P.S. for a link to their site.)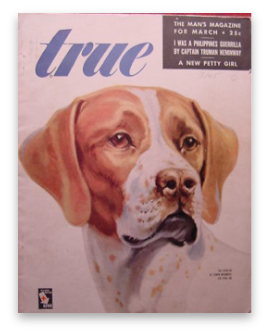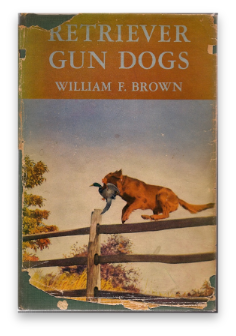 During the 1940s, Megargee continued to illustrate books for other authors, too. In 1945, he lent his talent to Margaret Cabell Self's book,
A Treasury of Horse Stories.
He worked with Milo Denlinger, too, providing illustrations for the standard for both
The Complete Collie
(1945) and
The Complete Dachshund
(1947). The Megargee standard sections of these books would be published separately as
The Blueprint of the Collie
and
The Blueprint of the Dachshund.
He also illustrated two books which were to become classics: William Brown's 1945 book,
Retriever Gun Dogs
and Eugene Connett's 1948
American Sporting Dogs.


Megargee continued his love affair with Scotties and, in 1949, was elected President of the Scottish Terrier Club of America. He also undertook one of his most personal endeavors, writing and illustrating a small children's book,
Poo and the Baby Bunny Rabbit,
which was published in 1947. The book, which features a little boy and an adorable baby bunny, is dedicated to Megargee's son. This book has become rare.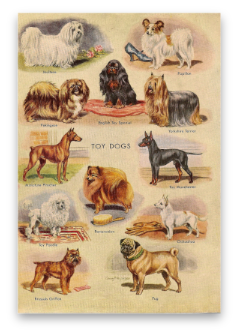 I have, in my collection, one Megargee piece that I believe dates from the 1940s, though it may hail from the '50s. It's a six-page piece that was clearly removed from a book or magazine. Each page showcases a different AKC group. (These were the days when the herding breeds were included in the Working Group.) Arranged on the page are little jewel like miniatures of Megargee's prints or illustrations from his books. Unfortunately, there are no markings anywhere indicating the origin of the pages. I've met one other person who has this identical piece. When he bought his pages, he was told that they came from
Life
magazine. It's difficult for me to imagine this as the type and weight of the paper, the binding style and the size format are so different from that used by
Life.
But, I suppose
Life
could have opted for something different in the issue with the piece on Megargee.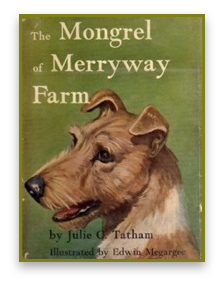 Megargee continued his amazing work in the 1950s. In 1952, he teamed up with acclaimed children's book writer Julie Campbell Tatham for two books. Tatham was the author of the highly successful
Trixie Belden, Ginny Gordon
and
Cherry Ames
series. Megargee provided illustrations of an Irish Terrier for her
The Mongrel of Merryway Farm.
The following year, Megargee provided the illustrations for Tatham's
World Book of Dogs.
It was vintage Megargee with some of his best work depicting breeds in appropriate settings. So many of the Megargee prints that are offered on ebay and other sites come from this book. One can only wonder how many books have been destroyed in this pursuit. I'm including here a couple of the illustrations from this lovely book.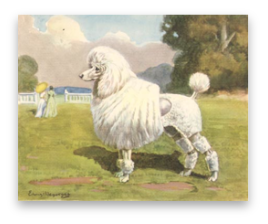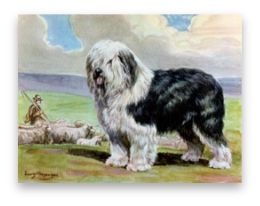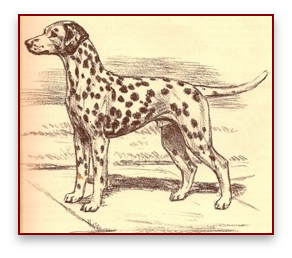 In 1954, Megargee penned
The Dog Dictionary.
For this book, Megargee did something different. The illustrations were simple, yet wonderful, pen and ink sketches of the breeds. In 1955, the publishers of the Little Golden Books, used some of Megargee's paintings, along with photos of the different breeds, for one of their Little Golden Activity Books. Entitled
Dog Stamps,
this interactive book included stamps that readers could tear out and paste on a chart.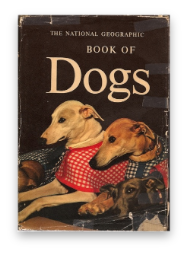 The National Geographic Society decided to update its best selling
The Book of Dogs.
Originally published in 1919, this magnificent book did much to promote interest in purebred dogs. The illustrations by Luis Agassiz Fuertes showed breeds in either their natural, historic settings or pictured them engaged in typical work or play. A second revised edition was released in 1927, adding a few illustrations by Hashime Murayama.


The earlier editions had set a high standard and the National Geographic set out to get the best for what would essentially be an all new volume. To write the text, they hired Arthur Frederic Jones, the well-respected editor of the
American Kennel Gazette,
and Freeman Lloyd, who had been writing about gundogs since the 1920s and, as we have seen, was considered the "Dean of American Dogdom." Edwin Megargee, Jr. was hired to do the illustrations. I imagine that Megargee was chosen because he had so often painted dogs in typical settings.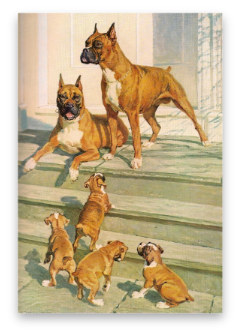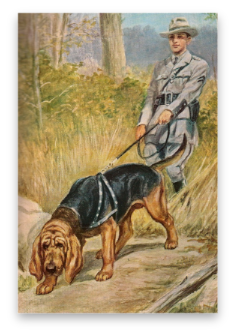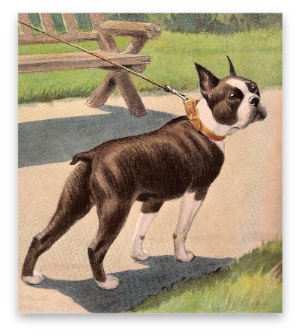 Man's Best Friend, The National Geographic Book of Dogs
contains some of Megargee's best ever work. In lesser hands, the paintings of breeds in each group could have become repetitive, but Megargee's imagination makes each painting distinctive. This is one of my all-time favorite dog books and a volume that fueled my interest in purebred dogs. Anyone flipping through the book, though, becomes aware of a glaring omission. The Toy Group is illustrated with rather common photographs. Sadly, Megargee was unable to finish his last assignment. He died, in 1958, while working on this book and never completed his paintings of the toy dogs. I look at that section on the toy group from that unknown magazine (see above, opposite the Dogcrazy Collection logo) and can only dream at what the toy illustrations would have been.
In the next few months, I'll begin listing lots of my paintings and prints in the
Dogcrazy Collection ebay store.
I must admit that I'm finding it difficult to let them go. Last week my favorite Beagle headstudy, by Ole Larsen, was purchased. I know it seems silly, but I just couldn't bring myself to be around when it finally went out the door. I fled the house and camped out at a local coffee shop. They may be getting lots of my business. I suspect it's going to be very difficult for me to bid adieu to my Megargee prints. I do hope those who buy them will treasure them as much as I have.


Happy Collecting,


Cathy, Harvey, Matt & Cocoa



P.S. The first stop for anyone who is a fan of dog art should be the
William Secord Gallery.
Mr. Secord was the curator of the AKC's Dog Museum for many years and he added many incredible pieces to the AKC collection. When it was decided to move the Museum to St. Louis, Mr. Secord opened his own gallery in New York City. His 1992 book,
Dog Painting, 1840-1940, A Social History of the Dog in Art,
is one of the finest books ever produced on the subject and a MUST HAVE for those who love dog art. Now out of print, Mr. Secord penned an expanded and revised edition in 2009, titled
A History of the Dog in Art.
You will want to check out two other Secord volumes, too:
Dog Painting, The European Breeds
and
A Breed Apart, The Art Collections of the American Kennel Club and the American Kennel Club Museum of the Dog.
Please allow time to fully explore his website which includes beautiful photographs of oils, prints and sculptures and biographies of prominent doggy artists.